Sweet 16 Injury Guide: Players to Monitor in Round of 16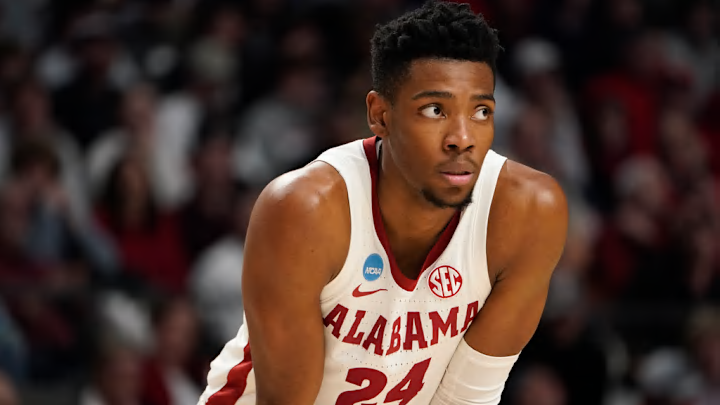 March Madness injury updates, including Brandon Miller. / ASSOCIATED PRESS
Marcus Sasser, University of Houston (#1), SIC Score 79
As we head into the Sweet 16, several key players on the remaining teams are dealing with injuries. Here's a look at their most recent status updates.
Brandon Miller, Alabama (#1), SIC Score 86
Miller was much more active in Round 2 against Maryland but had a lackluster shooting performance while playing through the minor groin strain he's been nursing since the SEC championship. 
The lanky freshman went 5-for-17 from the field but was 7-for-8 from the free throw line and 2-for-6 from 3-point range for 19 points, which ranked second on the team.  
He also added 7 rebounds and should be much closer to 100% on Friday against San Diego State.
Norchad Omier, Miami (#5), SIC Score 87
The 6-foot-7 sophomore had 17 rebounds in 26 minutes on Sunday, powering the Hurricanes to an 85-69 victory over the Indiana Hoosiers. Omier entered the tournament nursing a right ankle sprain but has not let it limit his rebounding ability. 
He has scored just 19 points on 5-for-14 shooting so far in the tournament, but look for him to be more active with the ball on the interior against Houston.
Wooga Poplar, Miami (#5), SIC Score 91
Poplar exited the win against Indiana after falling hard on his tailbone while grabbing a rebound. By video, the sophomore guard is dealing with a contusion and should be ready to go on Friday against the Cougars.
David Singleton, UCLA (#2), SIC Score 61
Despite a gruesome-looking right ankle sprain, Singleton will be available for the Bruins on Thursday night against the Gonzaga Bulldogs. 
By video, Singleton suffered at least a Grade 2 inversion ankle sprain and was fortunate to avoid an ankle fracture.
He will not have full mobility on defense but can still operate as a spot-up shooter on offense – his main role on that end of the court. 
The fifth-year senior is shooting 42.5% from deep this season while averaging 9.1 points in 27.9 minutes per game. His 71 made 3-pointers led the team during the regular season.
The main reason his SIC score is so low is because he will be a liability on the defensive end.
Adem Bona, UCLA (#2), SIC Score 57
Bona had limited effectiveness in 20 minutes against Northwestern -- his first action since suffering a left shoulder dislocation on March 10. The 6-foot-10 freshman finished with 6 points, 1 rebound, 2 blocks and 3 fouls while playing mostly right-handed.
Bona's shoulder will be slightly better against Gonzaga on Thursday, but he gets a tough matchup against veteran big man Drew Timme.
Head coach Mick Cronin may look to play Kenneth Nwuba early if Bona struggles to be effective on the boards.
Ryan Kalkbrenner, Creighton (#6), SIC Score 91
Creighton's 7-foot-1 center suffered a minor left ankle injury in the first round but played full minutes in Round 2 against Baylor. 
He finished with 10 points, 7 rebounds and a block in the 85-76 win.
The Bluejays have a Friday matchup against the #15 seed Princeton Tigers, whose tallest starter is 6-foot-9.
Jaylen Clark, UCLA (#2), Out for Tournament
The Bruins' defense has performed well despite the absence of Jaylen Clark and his 2.6 steals per game. They allowed 53 points to UNC Asheville and 63 points to Northwestern.
However, the real test will come Thursday night against the Gonzaga Bulldogs, who ranked first in Division I with 87.3 points per game.
Clark suffered a torn Achilles tendon on March 4 against the Arizona Wildcats. 
Zakai Zeigler, Tennessee (#4), Out for Tournament
The Volunteers have made their first Sweet 16 since 2019 despite the loss of starting point guard Zakai Zeigler. 
Tennessee lost two of their last three games heading into the tournament after Zeigler's ACL tear on the final day of February.
However, their defense has stepped up in the tournament, limiting their first two opponents to 55 and 52 points, respectively.
Senior Santiago Vescovi has led the team in assists in each of the last two games after leading the team in scoring during the regular season.
The #4 seed Volunteers get a matchup against the #9 seed Florida Atlantic University on Thursday night.
Follow Sports Injury Central here and you'll get our new FREE SIC Newsletter each week. Our newsletter will have the best NFL, CFB, NBA and MLB injury insights from our Pro Sports Doctors plus Free Picks delivered straight to your inbox to give you an edge!