MLB - Odds & Predictions
2022 World Series Odds Favor Yankees, Dodgers and Astros Heading Into Second Half on FanDuel Sportsbook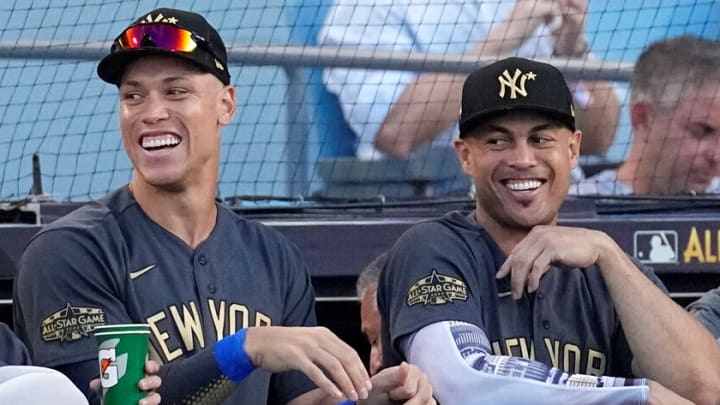 The 2022 World Series odds favor the Yankees, Dodgers and Astros on FanDuel Sportsbook as MLB continues following the July 19 All-Star Game. / Jae C. Hong / Associated Press
Following the MLB All-Star Game, the New York Yankees (+300), Los Angeles Dodgers (+340) and Houston Astros (+450) lead the way as favorites on FanDuel Sportsbook to win the 2022 World Series.
The Yankees have the best record in baseball at 64-28, while the Dodgers top the National League at 60-30. Houston is the other team with at least a 9.0 game division lead at 59-32 in the AL West.
The New York Mets (+700) and defending World Series champion Atlanta Braves (+900) are just 2.5 games apart in the NL East, which foreshadows a tight race down the stretch.
The Minnesota Twins (+5000) lead the AL Central with 50 wins and a 2.0 game lead over the Cleveland Guardians (+10000). But it's the Chicago White Sox (+4500) who have the shorter odds to win the World Series sitting 3.0 games behind the Twins.
The Milwaukee Brewers (+2500) also have 50 wins and hold just a 0.5 game lead over the St. Louis Cardinals (+4000) in the NL Central.
World Series Odds 2022
The Tampa Bay Rays, Seattle Mariners, Toronto Blue Jays and Boston Red Sox are all in the American League Wild Card chase after playing above .500 baseball in the first half. It looks like it'll be the San Diego Padres, Philadelphia Phillies and San Francisco Giants fighting for a Wild Card spot in the National League.
The Mariners have made a huge jump from +12000 to +3500 after recording 14 straight wins heading into the All-Star break.
Here are the full World Series odds on FanDuel Sportsbook following the July 19 All-Star Game. Check out additional props including division odds, adjusted season win totals and player awards as well.
1.

New York Yankees (+300)
2.

Los Angeles Dodgers (+340)
3.

Houston Astros (+450)
4.

New York Mets (+700)
5.

Atlanta Braves (+900)
6.

Toronto Blue Jays (+2000)
7.

Milwaukee Brewers (+2500)
8.

San Diego Padres (+3000)
9.

Tampa Bay Rays (+3500)
10.

Seattle Mariners (+3500)
11.

St. Louis Cardinals (+4000)
12.

Philadelphia Phillies (+4000)
13.

Chicago White Sox (+4500)
14.

Minnesota Twins (+5000)
15.

Boston Red Sox (+5000)
16.

San Francisco Giants (+6000)
17.

Cleveland Guardians (+10000)
18.

Baltimore Orioles (+30000)
19.

Miami Marlins (+40000)
20.

Los Angeles Angels (+50000)
21.

Texas Rangers (+100000)
22.

Oakland Athletics (+500000)
23.

Cincinnati Reds (+500000)
24.

Chicago Cubs (+500000)
25.

Kansas City Royals (+500000)
26.

Pittsburgh Pirates (+500000)
27.

Arizona Diamondbacks (+500000)
28.

Detroit Tigers (+500000)
29.

Colorado Rockies (+500000)
30.

Washington Nationals (+500000)