VIDEO: Madison Square Garden Security Removes Knicks Fan Who Started 'Fire Dolan' Chant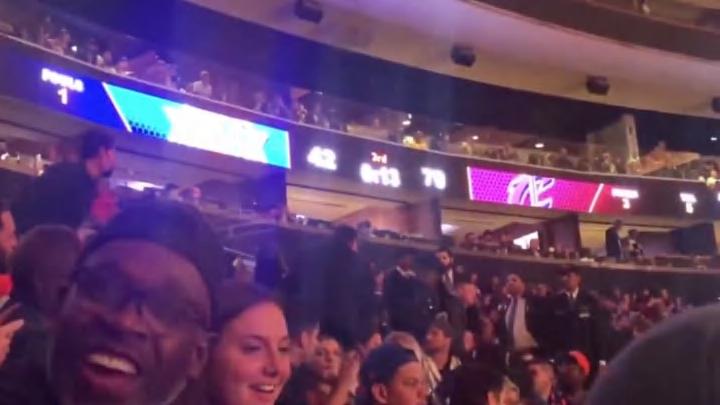 During the 108-87 Sunday loss to the Cleveland Cavaliers, there wasn't much for Knicks fans to cheer for. Instead, one fan started a "fire Dolan" chant, which led to him being escorted out of the arena by security.
To call the New Yorks Knicks organization a dumpster fire would be putting it lightly. And this type of disorganization and ineptitude trickles down from owner James Dolan, who is widely regarded as the worst owner in the NBA, and Knicks fans have been fed up with him for years.
After the team has endured another poor start to the season, beginning the year at 2-8, this fan voiced his displeasure and was forced out of the stands by six, yes six, security guards.
This mistreatment of fans isn't exactly surprising from the Knicks and Dolan, as we remember him having Knicks legend Charles Oakley removed in the past.
Sadly, this type of action and media attention isn't going to put an end to the ongoing criticism from fans. Instead, it'll promote it. Soon, it could be too much for some, leading to empty seats in the stands, which doesn't do any good for anyone.
In the sports' largest market, it remains incredible how an organization not only struggles, but fails to recruit top talent. The Knicks seem forced to build through the draft, with players like R.J. Barrett, and hope enough young talent can convince some players to sign, or at very least stick around.
---
Join FanDuel Sportsbook Today. New users get a risk-free bet up to $500. Join Now.