Former Falcon Makes Embarrassing Admission About Patriots Super Bowl Comeback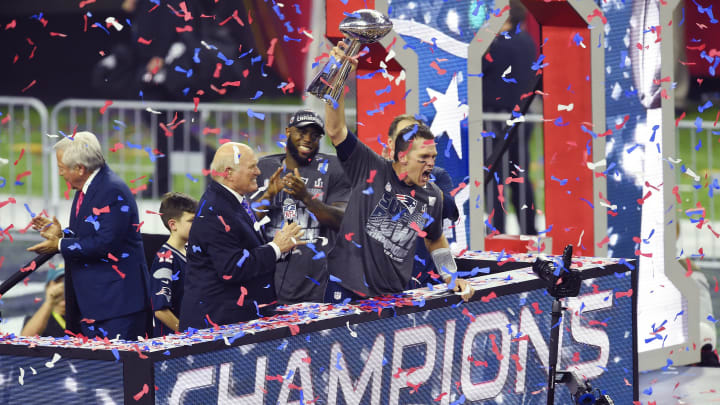 A former Atlanta Falcons player made an embarrassing admission about the New England Patriots' infamous Super Bowl 51 comeback. / Focus On Sport/Getty Images
Super Bowl 51 will go down in football history for one infamous reason: 28-3. That was the score that the Atlanta Falcons were up by before blowing the lead and allowing the New England Patriots to come back to win the game.
While a lot of memes and jokes have been made about the game since then, things got even funnier on Thursday thanks to an admission made by a former Falcons player.
Arizona Cardinals cornerback Malcolm Butler was a Patriot at Super Bowl 51, competing against now-teammate and fellow CB Robert Alford. Butler told 12 News' Ryan Cody on Thursday that Alford told him that the Falcons were celebrating in their locker room when they were up 21-3 at halftime. Considering how things went in the second half of the game, that just makes Atlanta's blown lead even more embarrassing.
Super Bowl 51 Blown Lead
According to Butler, Alford told him that the Falcons went as far as popping bottles of champagne to celebrate their lead. Unsurprisingly, the former Patriot CB probably won't let his new teammate live that embarrassment down just yet.
"Robert [Alford], he's a funny guy, he's got a lot of energy, tells a lot of jokes, and he told me at halftime they were in there dancing and hooraying, then we came back and beat them, so I think that was pretty funny."

- Malcolm Butler
Fortunately for Alford, he's no longer a Falcon and can focus on helping the Cardinals return to the postseason for the first time since 2015. He and Butler are joining an Arizona defense that allowed just 226.4 passing yards (10th) and 1.6 passing touchdowns (T-13th) per game last season, so it'll be up to them to help keep those numbers above the league average in 2021.
It's nice to see Alford and Butler joking about the infamous blown lead despite being on different sides of the game. After all, a locker room that gets along will go a long way when it comes to Arizona's chances of success this year. The Cardinals currently have +4800 odds to win Super Bowl 56, according to FanDuel Sportsbook, which ranks 20th leaguewide.
---
Sign up for FanDuel Sportsbook today and get your first bet risk free for up to $1,000!