Buzz - deleted
Dodgers Launch New Seating Section for Fully Vaccinated Fans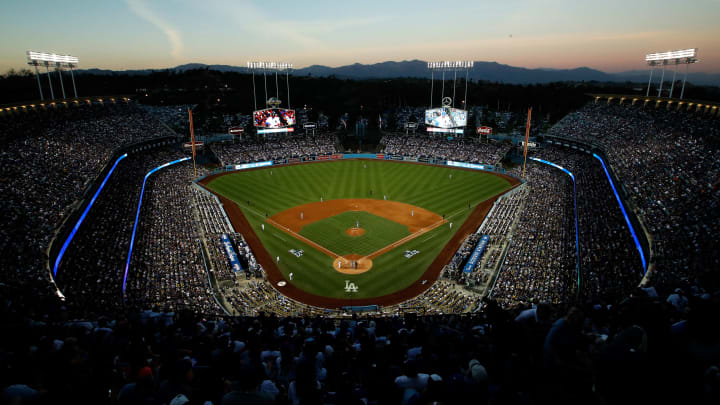 The Los Angeles Dodgers have just launched a new seating section for any fan that's fully vaccinated. / Josh Lefkowitz/Getty Images
With each passing day, more and more people across the United States receive one of the COVID-19 vaccines. As more people are vaccinated, the closer sports teams are to full arenas and stadiums again.
The Los Angeles Dodgers took another step toward filling their stadium on Thursday by announcing a new section for fully vaccinated fans. The team will debut it during this Saturday's game against the San Diego Padres.
Two sections along the first baseline towards the outfield (166LG and 168LG) will be available for any fan who can provide proof that it's been at least two weeks since they received their final vaccine. Children between the ages of two and 15 can also sit there as long as they've tested negative for COVID-19 within 72 hours before the game.
Any fans in the vaccinated section won't have to social distance and will be seated side-by-side. Masks still have to be worn, but they can be removed for eating and drinking.
As exciting as this sounds, fans shouldn't get too ahead of themselves. The Dodgers didn't announce whether the section would be used beyond Saturday. If anything, this first game will be a test drive and, if all goes well, it would become a mainstay beyond that. Regardless of how long it'll take to get going, the vaccinated section is one of the biggest steps in getting a full capacity of fans back into Dodgers Stadium.
The Dodgers are currently the top team in the MLB, sporting a 14-4 record. According to FanDuel Sportsbook, their odds of winning the World Series are the best in the league at +300.
---
Sign up for FanDuel Sportsbook today and get your first bet risk free for up to $1,000!