Horse Racing
Breeders' Cup Juvenile Fillies 2022 Win Contenders and Criteria at FanDuel Racing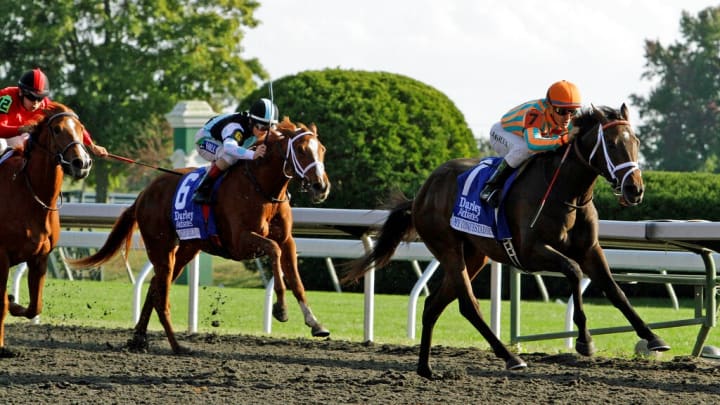 Breeders' Cup Juvenile Fillies 2022 contenders. / Associated Press
One of the year's biggest weekends in horse racing is just days away with the 2022 Breeders' Cup bringing 14 races across two days on Nov. 4-5.
The races kick off on Friday with several events fans and bettors are looking forward to. That's when the Breeders' Cup Juvenile Fillies goes down at 1:40 p.m. ET. The 1 1/16 mile dirt race has a purse of $2 million.
The Juvenile Fillies' challengers and contenders were announced last week. Here's additional insight from FanDuel Racing and our contacts at Horse Racing Nation with everything you need to know about the leading contenders and field before wagering on the Breeders' Cup Juvenile Fillies on FanDuel Racing.
Breeders' Cup Juvenile Fillies Contenders and Criteria
With a full field and an abundance of pace and presser types, the pace projects to be about 7 or 8 points faster than par with as many as 5 or 6 fillies running within 2 lengths of one another in the early going. A filly that projects to sit just a couple of lengths off that furious pace figures to be advantaged in this race.
Top Win Contenders
1.

Atomically

Atomically is a pace presser who was transferred to trainer Todd Pletcher's barn after crushing her rivals by more than 6 lengths in her last two starts at Gulfstream Park in Florida. Contributing to her high HRN Super Screener score is the rapid improvement she is showing as she takes on tougher and more ground. Atomically owns 2-turn experience and is showing a lot of balance at an elevated level. This is about as far as she'll want to go, but connections are in to win now. She presses then pounces as the race favorite.
2.

Raging Sea

Raging Sea is another pace presser who rates as a top value pick. She finished second by a neck in the Grade 1 Alcibiades while pressing a very fast pace. She'll sit a great stalking trip expending less energy than she did in the last race while offering more late-race stamina in this second race off the layoff. The biggest knock on her is the lack of her foundation, but trainer Chad Brown's two-year-olds often move forward in their third starts.
3.

Wonder Wheel

Another pace presser, this Mark Casse-trained filly won the top prep for this race (Grade 1 Alcibiades) and appeared to like this surface. She took command early and while she was on the lone lead she cut very fast fractions in her second race off the layoff. Wonder Wheel will press here and form cycle analysis is anticipating another move forward. Expecting improvement from a sprint to a 2-turn route is very bullish.
4.

Chop Chop

Chop Chop is a projected board hitter and contender for trainer Brad Cox. He started this filly routing on turf and she responded well after moving to dirt in the Grade 1 Alcibiades, coming from the back of the field to close with a rush and missing the win by a diminishing nose. It was a strong dirt debut and no filly is coming into this with as much route foundation as Chop Chop. She'll have nearly 5 lengths to make up at the top of the short stretch, but the hot and pressured pace will have a lot of tiring front runners coming back to her.
5.

Chocolate Gelato and Uncontrollable

Chocolate Gelato is another pace presser who rates as a solid value while Uncontrollable is a top longshot pick.
Juvenile Fillies Criteria
• Favor pressers
• Vast majority of winners had their final prep of at least a mile
• Prefer fillies with a last-out BRIS Speed Rating of 95+ or increasing figures pattern
• Must have a 195+ when combining BRIS LP and BRIS Speed Rating
• Historically, longshot bombers regularly finish either 3rd or 4th in this race
• Discount fillies with 2 or fewer starts
• Favor fillies that have raced within 60 days
• Increasing Speed Rating when going from sprint to route is a big positive
• Favor fillies hitting new tops in their last race