5 Most Bizarre Mascots of All Time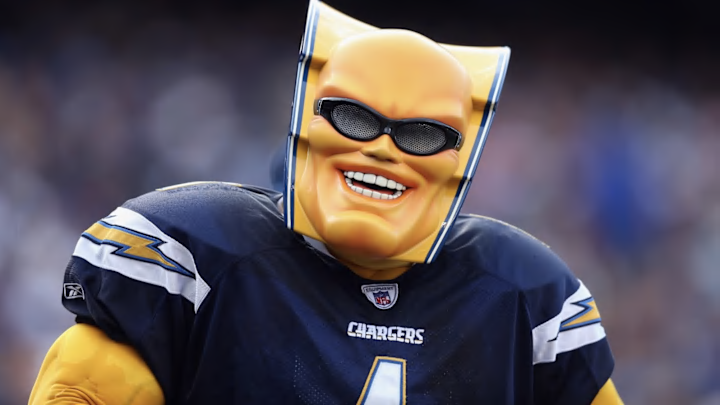 Cover Photo: Jeff Gross/Getty Images
Mascots have been a part of sports for decades, pumping up the crowd to give the home team a boost of energy. However, there have been some mascots that are downright strange. Here the five more bizarre mascots of all time.
1.

Braves Bleacher Creature
Twitter/@Super70sSports /
The "Braves Bleacher Creature" was pretty much the scariest thing in the MLB during the late 1970s to the early 1980s. It was originally worn by a Georgia Tech student named Alen Stensland. Stensland apparently claimed this mascot suit smelled terrible on the inside too, truly making this a living nightmare, inside and out.
2.

Original NOLA Pelican
Chris Graythen/Getty Images /
This mess of a mascot looks like it did the walk of shame from Bourban Street into the arena just minutes before tip-off and hastily did its face makeup. To make it worse, to cover everything up, it's trying a little too hard to impress everyone, making the entire mascot experience awkward and downright unpleasant.
3.

Boltman
Stephen Dunn/Getty Images /
This may be the most bizarre mascot in NFL history. The then San Diego Chargers' unofficial mascot, Boltman, was apparently costumed by a diehard fan named Dan Jauregui. Boltman had human features, including an oddly chiseled jaw line. No wonder Chargers fans don't show up to games.
4.

Stuff the Magic Dragon
Manuela Davies/Getty Images
There's too much going on here. Between the neon green fur, pink wings and ears, blue hair and an Orlando Magic jersey that's a little too small, it's hard to know what to make of this mascot. "Stuff" looks like it was designed by an elementary school student.
5.

WuShock
Sean M. Haffey/Getty Images /
Witchita State apparently got the name "Shockers" from a football manager back in 1904, named for those who "shock" wheat. When you take a look at WuShock above, it's no wonder why the school no longer has a football team. WuShock has been a strange mascot throughout its evolution, with its current form even slightly resembling chef Gordon Ramsey.
---
Join FanDuel Sportsbook Today. New users get a risk-free bet up to $500. Join Now.