Stanley Cup Odds: Avalanche Lead Pack As NHL Nears Midway Point of 2021-22 Seaosn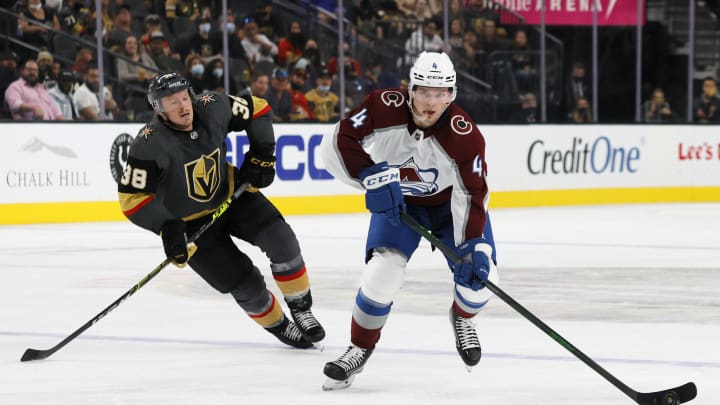 Colorado Avalanche v Vegas Golden Knights / Ethan Miller/GettyImages
The NHL will reach the halfway point of the 2021-22 regular later this month, and the early season contenders have established themselves. The Stanley Cup odds on FanDuel Sportsbook show the Colorado Avalanche maintaining their position as favorites just ahead of Western Conference rival and Pacific Division-leading Vegas Golden Knights.
The defending Cup champion Tampa Bay Lightning remain a clear contender, while the Toronto Maple Leafs and Florida Panthers are also top contenders in the East and the Atlantic Division as you consider the team's roster, health and injury situations.
The Nashville Predators and St. Louis Blues are actually in front of the Avalanche in the Central Division, but remain longer shots to win the Stanley Cup. The New York Rangers are battling the Carolina Hurricanes atop the Metropolitan Division as their Stanley Cup odds continue to rise.
With such discrepancy in games played due to COVID-19 protocols, postponements and cancellations, there is much to follow as the players and teams skate their way into the second half of the season starting in February.
Here are the current odds to win the Stanley Cup on FanDuel Sportsbook.
2022 NHL Stanley Cup Odds
1.

Colorado Avalanche (+550)
2.

Vegas Golden Knights (+750)
3.

Tampa Bay Lightning (+800)
4.

Florida Panthers (+1000)
5.

Toronto Maple Leafs (+1000)
6.

Carolina Hurricanes (+1300)
7.

Washington Capitals (+1600)
8.

Pittsburgh Penguins (+1800)
9.

Minnesota Wild (+1800)
10.

New York Rangers (+1900)
11.

Boston Bruins (+2000)
12.

Calgary Flames (+2000)
13.

St. Louis Blues (+2500)
14.

Edmonton Oilers (+2700)
15.

Dallas Stars (+3500)
16.

Nashville Predators (+3500)
17.

Anaheim Ducks (+4800)
18.

Winnipeg Jets (+4800)
19.

New York Islanders (+6000)
20.

Vancouver Canucks (+8500)
21.

Los Angeles Kings (+8500)
22.

Philadelphia Flyers (+10000)
23.

San Jose Sharks (+10000)
24.

Detroit Red Wings (+15000)
25.

Columbus Blue Jackets (+15000)
26.

Chicago Blackhawks (+20000)
27.

New Jersey Devils (+20000)
28.

Seattle Kraken (+25000)
29.

Montreal Canadiens (+30000)
30.

Ottawa Senators (+30000)
31.

Arizona Coyotes (+30000)
32.

Buffalo Sabres (+30000)
---
Sign up for FanDuel Sportsbook today and get your first bet risk free for up to $1,000!