Celtics NBA Finals Odds Skyrocket After Game 4 Win Over Heat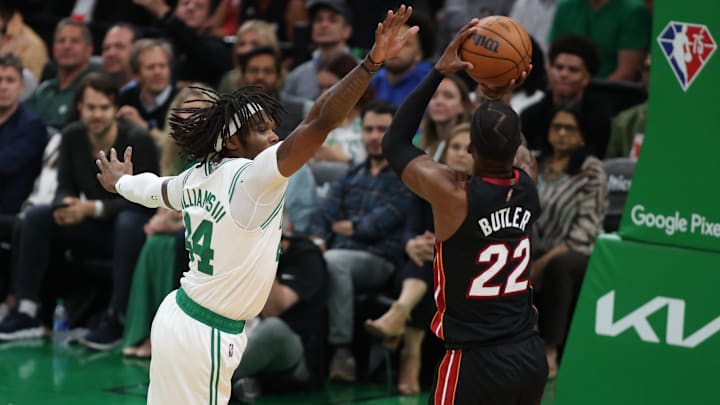 Boston Celtics NBA Finals odds skyrocket after their Game 4 win over the Miami Heat. / Paul Rutherford-USA TODAY Sports
The Boston Celtics are the most resilient team in the NBA. After opening the regular season with an 18-21 record, Boston finished the year on a 33-10 run and locked up the No. 2 seed in the East. That mentality has carried over to the postseason, as the C's have responded after every playoff loss.
The Celtics have yet to lose back-to-back games in the postseason, going 5-0 after an L with an average margin of victory of 17.7 PPG. After defeating the Miami Heat, 102-82, in Game 4, Jayson Tatum's team is now just two wins away from its first NBA Finals appearance since 2010. The odds suggest Boston is likely to advance to the next round.
Celtics NBA Finals Odds
FanDuel Sportsbook listed Boston at +330 to win it all before Game 4, giving them the third-best odds of the four remaining teams. Their opponent in the ECF, Miami, was available at +300 (No. 2 in the NBA).
But now that the C's have knotted the series up at 2-2, Boston is available at +260. That trails only the Golden State Warriors (-155) and gives the organization a sizable lead over Miami (+440; No. 3).
The odds back up what the eye test has shown us – the Celtics are the more talented team. Key starters like Robert Williams and Marcus Smart are questionable to suit up for Game 5, and yet Boston is listed as a 1.5-point road favorite heading into Wednesday night. But none of that guarantees the Celtics will win this series.
To advance to the NBA Finals, Boston needs to prove it can do more than just respond to Miami. The Celtics have to make the Heat respond to them in Game 5.