World Cup Injury Report - Neymar Leaves Match With Ankle Injury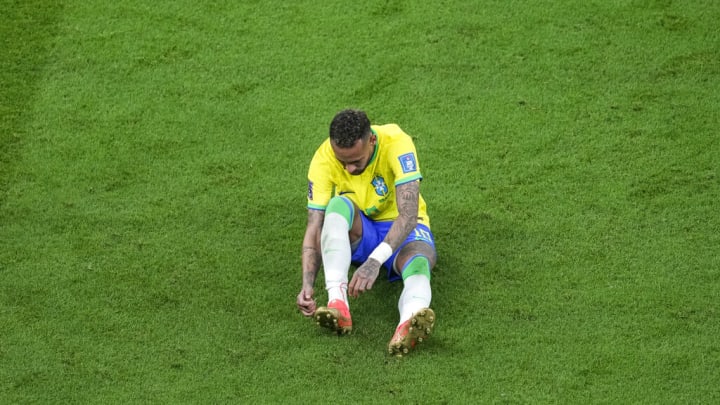 Neymar headlines the latest World Cup injury report. / ASSOCIATED PRESS
The first round of the World Cup group stage has passed with big box scores (Spain and England each scored 6+ goals) and major upsets (Germany and Argentina both suffered brutal losses). Although teams picked up crucial points in the standings, players also picked up bumps and bruises that may cost them games as we march deeper into the tournament. 
Names To Monitor 
Neymar - Ankle Injury
Brazil topped Serbia, 2-0, on Thursday but may have lost fan favorite Neymar to an ugly-looking ankle injury.  The Paris Saint Germain attacker was seen walking on the sidelines with his cleat off showing clear swelling to the ankle. 
According to our panel of doctors at sicscore.com, Neymar suffered a likely lateral ankle sprain and will miss the final two games of the group stage.
The Brazil team doctor says Neymar suffered trauma to the ankle and will need reassessment in the following days.
Harry Kane - Ankle Injury
The English talisman has been dealing with ankle issues for years and they appear to have caught up with him in what may be the biggest tournament of his life. 
The Tottenham forward played well in his first match, logging two assists in a 6-2 dismantling of Iran. Kane was able to stay on until the 75th minute being replaced by Newcastle forward Callum Wilson. The forward appeared to suffer an eversion ankle sprain after a hard tackle by Iran's Morteza Pouraliganji. 
Kane was cleared to train after tests showed no serious damage, but the next decision will be whether it's smart to start the forward against Team USA.
Cheikhou Kouyate - Hamstring Injury
The Senegalese defender was having a fantastic game against Holland, completing passes at an 83% clip while adding two blocks and two interceptions before being stretchered off. 
The Nottingham Forrest player suffered what appeared to be a right hamstring injury and reports from Senegal specified right hamstring inflammation. 
After worries that the defender would miss the final two group stage games, there's optimism that he can return soon with Senegal playing their second game against Qatar.
Enner Valencia - Knee Injury
The Ecuadorians face a tough match as they face likely Group A winners Holland, but may need to fight without leading scorer Enner Valencia. The Fenerbahce forward scored two goals against Qatar and will be missed if he is unable to go. 
The backup forwards have a combined 39 caps, meaning there is a huge drop-off in experience if Valencia doesn't play. Cruz Azul forward Michael Estrada is the next man up at the forward position.
Ruled Out Of World Cup
Lucas Hernadez - ACL Injury
The French roster has been drowning in injuries since the beginning of the tournament and added yet another injury with left back Lucas Hernandez going down with a right ACL tear.
The Bayern Munich player's WC campaign is over after limping off just minutes into the match. The Frenchman was replaced by his brother Theo Hernandez, who plies his trade at AC Milan and while this represents a drop in talent level, Theo is fully capable of filling in and playing WC-level defense. 
While injury-riddled, France is well on their way to qualifying for the Round of 16 after shellacking Australia, 4-1. 
Thomas Delaney - Knee Injury
The Denmark national football team has endured a dreadful start to their 2022 WC after dropping points to Tunisia (ranked 30th in the world according to FIFA rankings). On top of the results, holding midfielder Thomas Delaney suffered what appears to be an MCL sprain that will knock him out of the WC. 
The Danes will be without their talented midfielder as they face France and beyond, meaning they will rely heavily on Christian Eriksen and Pierre Emile-Hojberg to spearhead the attack while getting back on defense as well. Expect a dip in play from the Danes as Delaney was crucial in driving the ball forward from the back end and starting the attack. 
Sports Injury Central is the home of Pro Football Doc – the FanDuel Official Injury Expert – and a leading panel of former team physicians from the NFL, CFB, NBA, and MLB. The team analyzes injuries to give fans an edge with their wagering and fantasy sports activities. For our free newsletter and injury-based bets throughout the NFL and NBA seasons, sign up for free here.