Get $150 in Bonus Bets GUARANTEED on Alvarez vs Ryder With FanDuel Boxing Promo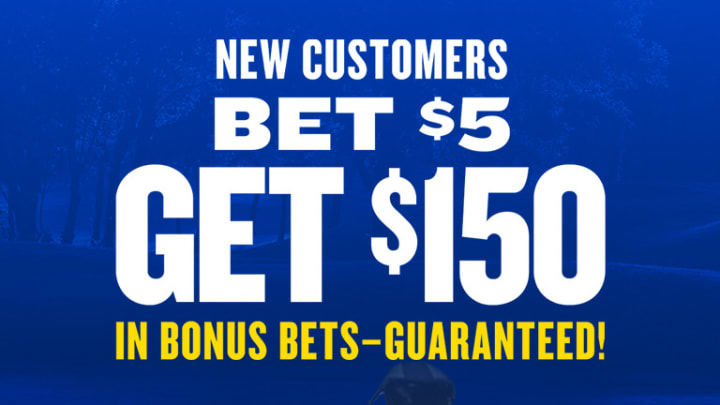 Boxing fans are gearing up for a big weekend with Canelo Alvarez headlining Saturday's fight card. The Mexican boxer is set to square off with British fighter John Ryder at Akron Stadium in Mexico on May 6.
Looking to make some boxing bets this weekend? FanDuel Sportsbook is the place to do it thanks to their incredible welcome offer. New customers who sign up for FanDuel and bet just $5 will automatically be rewarded with $150 in bonus bets guaranteed.
Interested in learning more about how FanDuel's welcome offer works? Keep reading.
Exclusive FanDuel Boxing Promo: How to Claim $150 in Bonus Bets Guaranteed
Confirm your identity and deposit $10+ into your account
Make your first wager a $5+ bet on any boxing match
Automatically earn $150 in bonus bets regardless of how your wager turns out
Is There a Catch to FanDuel's Boxing Promo?
If you're thinking there has to be a catch related to this offer, there isn't. To claim your bonus, simply sign up for a new FanDuel Sportsbook account, deposit at least $10, and then wager at least $5 on anything you want, including Alvarez vs Ryder. These steps only take a few minutes, so you'll be signed up and ready to bet before you know it.
Once you've wagered at least $5 with your first bet, FanDuel will automatically credit your account with $150 in bonus bets within 72 hours. You don't even need to win that $5+ wager or have it settle to get your bonus, as FanDuel will send you the $150 just for placing the bet.
Saturday will be here before long, though, so sign up today before it's too late!
FanDuel Responsible Gaming Tools
FanDuel offers several responsible gaming tools to help its users play within their limits and maintain control over their gambling activities. Here are five of FanDuel's responsible gaming tools:
Deposit Limits: FanDuel allows its users to set daily, weekly, or monthly deposit limits to help them control their spending on the platform. These limits can be easily adjusted at any time.
Self-Exclusion: FanDuel offers a self-exclusion feature that allows users to voluntarily exclude themselves from using the platform for a specified period. During this period, users cannot access their accounts or place any bets.
Time-Out: FanDuel offers a time-out feature that allows users to take a break from using the platform for a specific period, ranging from 24 hours to 30 days.
Reality Check: FanDuel's reality check feature sends users reminders about their gambling activities, such as how much time they have spent on the platform and how much they have won or lost. These reminders help users maintain control over their gambling activities and make informed decisions.
Activity Statement: FanDuel provides users with a comprehensive activity statement that details their gambling activities, including bets placed, winnings and losses, and account balances. This information helps users keep up-to-date with exactly how their bets have been performing and the real-money impacts of their wins and losses.