Red Sox Avoid Free Agency With Postseason Hero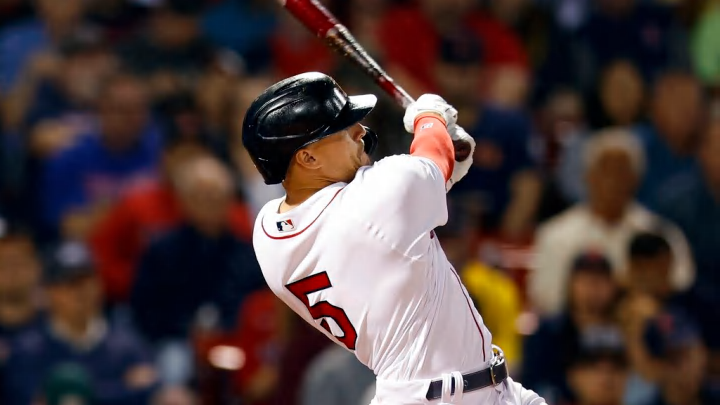 The Boston Red Sox have signed OF Kike Hernandez to a contract extension. / ASSOCIATED PRESS
The Boston Red Sox have a lot of uncertainty surrounding their roster next year, but at least they addressed one of those looming questions this week.
The Red Sox got a head start on what figures to be a busy offseason by signing outfielder Kike Hernandez to a one-year, $10 million contract extension on Tuesday. Hernandez was slated to be one of the team's several key free agents this winter, along with Xander Bogaerts, J.D. Martinez, Nate Eovaldi and others.
Boston Red Sox News
Next year will be Hernandez's 10th MLB season and third with Boston. He signed a two-year, $14 million deal with the Red Sox ahead of the 2021 season and immediately helped them engineer an impressive turnaround, hitting 20 home runs and leading the team from a last-place finish in 2020 to 92 regular-season wins and a playoff berth.
Hernandez shined during the 2021 postseason, nearly carrying Boston to the World Series in the process. The veteran outfielder caught fire in October, racking up 17 hits (including five home runs) during an absurd six-game stretch. While the Red Sox ultimately bowed out against the Houston Astros during the ALCS, Hernandez cemented himself as a fan favorite in Boston with his David Ortiz-esque postseason heroics.
The Red Sox and Hernandez have fallen back to earth in 2022, as Boston once again finds itself wallowing in last place in the AL East. The team has been hit hard by injuries to a number of top players this year, including Hernandez who missed more than two months with a hip issue. His performance has suffered as a result, as his OPS is down nearly 150 points compared to last year.
The Red Sox are hopeful the 31-year-old Hernandez can stay healthy and bounce back next year. If he does, the 2023 campaign may be more like 2021 for both the team and the player.