NL MVP Odds Favor Struggling Soto While Lindor, Arenado and Machado Players to Watch in May on FanDuel Sportsbook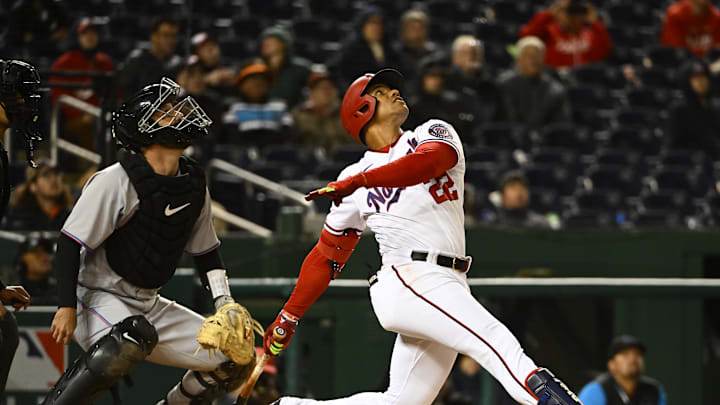 National League 2022 MVP odds favor Juan Soto and Ronald Acuna, Jr. on FanDuel Sportsbook heading into May. / Brad Mills-USA TODAY Sports
The Washington Nationals are in last place in the NL East heading into the weekend before May. The Nationals 8-game losing streak has seen the team fail to score 4 runs or more in any of those contests. Nationals outfield Juan Soto is struggling, yet he remains the NL Most Valuable Player favorite at +500 odds, according to MVP odds on FanDuel Sportsbook.
Don't expect that to last, as Soto is hitting .243 with 3 HRs and 3 RBIs. He's 1-for-15 with runners in scoring position this season. Ronald Acuna, Jr. (+700) of the Atlanta Braves is next in the MVP race, but he has yet to hit a home run while hitting .269 with 5 RBS.
New York Mets short stop Francisco Lindor (+1000) has moved up in the MVP race this week and he's one to watch hitting .273 with 4 HRs, 13 RBIs, 12 runs scored and 3 stolen bases.
Other players to watch at longer odds include San Diego Padres 3B Manny Machado, whose MVP odds have risen from +3000 to +1600. Machado is batting .395 with a 1.070 OPS - both top 3 in the league. Machado leads the NL with 30 hits, and St. Louis Cardinals 3B Nola Arenado (+1000), is also top 3 in those stat categories hitting 3.82 with a 1.146 OPS, 26 hits and with 17 RBIs.
Here are the current National League MVP odds on FanDuel Sportsbook 20 games into the baseball season heading into May.
NL MVP Odds 2022
1.

Juan Soto, OF, Washington Nationals (+500)
2.

Ronald Acuna Jr., OF, Atlanta Braves (+700)
3.

Francisco Lindor, SS, New York Mets (+1000)
4.

Nolan Arenado, 3B, St. Louis Cardinals (+1000)
5.

Freddie Freeman, 1B, Los Angeles Dodgers (+1200)
6.

Bryce Harper, OF, Philadelphia Phillies (+1500)
7.

Manny Machado, 3B, San Diego Padres (+1600)
8.

Trea Turner, SS, Los Angeles Dodgers (+1600)
9.

Matt Olson, 1B, Atlanta Braves (+2000)
10.

Mookie Betts, OF, Los Angeles Dodgers (+2500)
11.

Pete Alonso, 1B, New York Mets (+2500)
12.

Austin Riley, 3B, Atlanta Braves (+3500)
13.

Ozzie Albies, 2B, Atlanta Braves (+3500)
14.

Seiya Suzuki, OF, Chicago Cubs (+3500)