Unseen Injury Advantages For TNF: Bengals vs Browns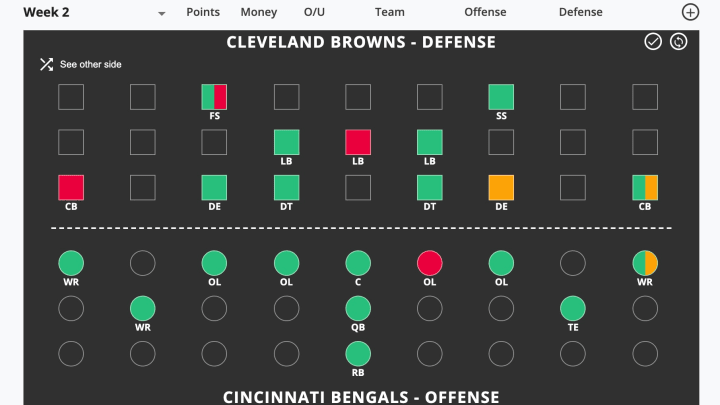 The Cleveland Browns have multiple injury issues in their secondary /
Both defenses are impacted with the Browns secondary not likely to be any healthier than Week 1 when they were dominated by Lamar Jackson in the air. The 2019 MVP completed 80% of his passes for an outrageous average of 11 yards per attempt while garnering three touchdowns and would have had more but for the lopsided score. Meanwhile Marquise Brown averaged over 20 yards per catch totaling over 100 yards. This week, Joe Burrow has a chance to break out with a healthy offense that is only missing the starting right guard. With all the Browns cornerback issues, it may be hard for them to account for A.J. Green, John Ross and Tyler Boyd.
The Injury Index gives insight on specific matchups including the significant injury mismatch with an A- for the Bengals pass offense health against a C+ for the Browns pass defense. Given the short week, there is not much time for a fix.
Note the Bengals defense has some of its own issues with Geno Atkins, Mike Daniels, Trae Waynes and Shawn Williams out on defense. Jarvis Landry is still not 100% from his hip and three out of the five offensive line starters are dealing with injuries but at least two of them should play.

Even though the Bengals travel on a short week, it is a short flight for an in-state match up for bragging rights in Ohio. The health grades favor the Bengals, especially on offense and right now you can get +6.5 points or get +215 on the ML at the FanDuel Sportsbook.
Injuries play a huge role in games, especially in a short week with little time for recovery and adjustments. This Thursday's game with the Bengals at the division-rival Browns has plenty of health considerations.
As the Official FanDuel Injury Expert, we will share some of the secrets from www.profootballdoc.com. Look for the free offers only for FanDuel members while checking out the interactive version of the Field View with hover feature only at www.profootballdoc.com. Flipping from offense to defense is the best way to see every hidden advantage. from across the NFL. The Injury Index and Field View are not intended to be the only factor to make your fantasy/DFS/wagering decisions but it is an important augment to one's strategy.