Best Locations to Host Your 2019 Fantasy Football Draft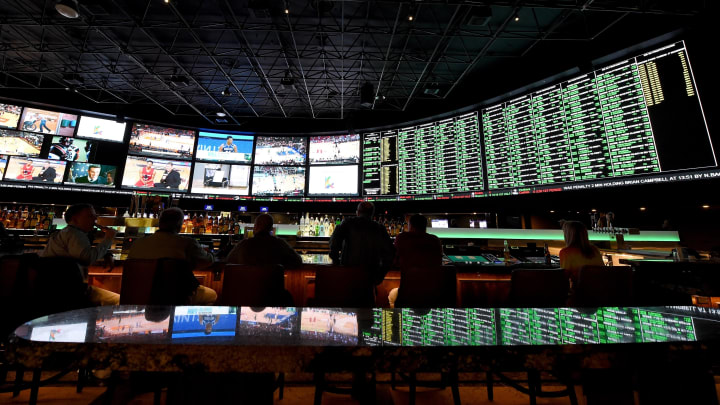 Super Bowl 50 Proposition Bets At The Westgate Las Vegas Race & Sports SuperBook / Ethan Miller/Getty Images
With NFL training camps in full swing, fantasy football fans everywhere are already working overtime in preparation for their upcoming drafts. And many fantasy owners think getting together with their league mates for a draft is a highlight of the summer.
So, where should you and your friends gather for draft night before this season's NFL campaign officially gets underway? Here's a look at six locations to consider hosting your 2019 fantasy football draft.
1.

Las Vegas
Ethan Miller/Getty Images
A destination fantasy football draft? If you haven't done one yet, it's highly recommend. And what place could be better than Las Vegas? Sin City has everything you need, from great hotels and restaurants to sportsbooks and casinos.
2.

Your Office
Streeter Lecka/Getty Images
I know what you're thinking. How in the world can we pitch Las Vegas and then do a complete 180 and recommend an office for a draft? Well, it's simple: not everyone has the time or the finances to make a destination draft work. If you're doing a league with people from work, doing so in your office makes total sense. You can get things going as soon as you're off the clock, or if you're lucky, your boss will let you log off a few hours early. Besides, you can impress your coworkers with one of these trophies, if you win your league.
3.

Local Bar
William Thomas Cain/Getty Images
You know that private room at your local watering hole you always walk past on the way to the bathroom? Well, that big ole room is there for a reason: for someone to use it. You've already eaten the wings and nachos countless times and know when the best beer and food specials are. Now, just head there with your closest pals, bring your laptops and be ready for a great draft. The charge (hopefully) won't be through the roof and you can still have a heck of a time. Just make sure they don;'t have spotty Wi-Fi.
4.

Your Home
Jonathan Bachman/Getty Images
Ballin' on a budget. Go potluck style and have all the members of your league bring a different food item to your home and watch the players fly off the board. Plus, you won't have to worry about making too much noise or taking up too much space in a public venue. The in-home fantasy draft is a no-brainer.
5.

Sportsbook
Ethan Miller/Getty Images
Okay, we kind of touched base on this one earlier in our Vegas section, but a sportsbook draft MUST be considered. Depending on the time of year you do your draft, there can be both MLB and college football action going on at the same time. Imagine doing your draft while also watching Alabama or Clemson in its season opener. Oh, and the food and drinks? Yup, you and your league mates will have quite the time.
6.

At Someone Else's House
Mark Brown/Getty Images
If you don't feel like hosting a bunch of your loud league mates over, why not just put that burden on someone else? Ok, maybe it's not a burden, but it's probably less stressful than hosting. In this instance, you can bring some food and drinks over as a thank you, then take an Uber home after you've indulged in said drinks and locked in what's sure to be a title-contending fantasy team.
---
Join FanDuel Sportsbook Today. New users get a risk-free bet up to $500. Join Now.