Limited-Time Offer: Get $150 GUARANTEED Before FanDuel NBA/NHL Playoffs Promo Expires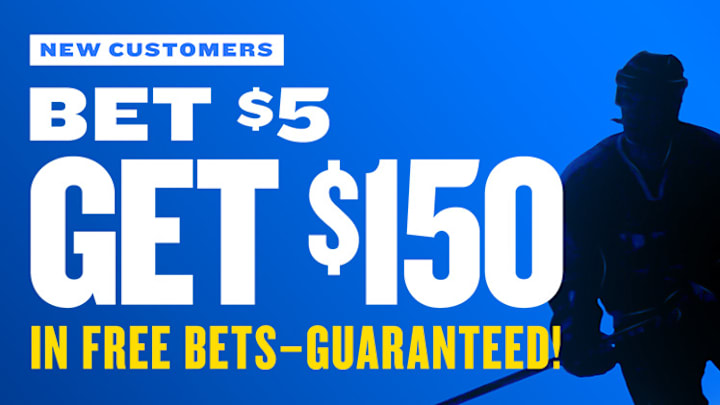 The NBA Playoffs and NHL Playoffs are in full swing as we approach the middle of May. With both tournaments now in the Conference Semifinals, teams are feeling the heat with a trip to the Conference Finals up for grabs.
If you're looking to raise the stakes by wagering on postseason games for either sport, FanDuel Sportsbook has you covered with a generous welcome offer. Customers who sign up for a new account at FanDuel Sportsbook and wager just $5 on the NBA or NHL Playoffs will automatically receive $150 in bonus bets guaranteed.
This offer is only valid for a few more days, however, so find out how to claim it today!
Limited-Time FanDuel Promo: How to Claim $150 in Bonus Bets for NBA/NHL Playoffs
To claim FanDuel's terrific promo for the NBA and NHL Playoffs, simply follow these steps:
Verify your personal info and deposit at least $10 in your new account
Wager $5+ on any NBA or NHL postseason market with your first wager
Automatically receive $150 in bonus bets, no matter how your first wager turns out
How Does FanDuel's NBA/NHL Playoffs Promo Work?
Scoring FanDuel's NBA/NHL Playoffs promotion is super easy and can be done in minutes. To get your $150 bonus, just sign up for a new account at FanDuel Sportsbook (new users only), deposit at least $10 in said account, and then make your first bet be $5+ on any sport you want, including the NBA or NHL postseason.
Once you've wagered at least $5 with your first bet, FanDuel will automatically transfer $150 in bonus bets to your account within 72 hours. It doesn't matter whether your $5 bet hits or not, as FanDuel will give you the $150 bonus regardless. You don't need to wait for your bet to settle, either, so you're free to bet on futures like the winner of the championship round or conference finals.
You should know that your bonus bets can only be used at FanDuel and do expire eventually, so you'll want to use them before you lose them. Fortunately, FanDuel has countless betting options on almost every sport imaginable, so you won't have any trouble finding things to wager on. Once you've exhausted your bonus bets, there are also other ways to earn free bets and boosts through various promotions as well.
This exclusive offer is only here through May 15, though, so sign up today and take advantage before it disappears!
FanDuel Responsible Gaming Tools
If you're nervous about betting on sports for the first time, there's no need to worry. FanDuel offers several responsible gaming tools to help its users stay within their limits and maintain control over their gambling activities. Here are five of FanDuel's responsible gaming tools to help keep things under control:
Deposit Limits: FanDuel allows its users to set daily, weekly, or monthly deposit limits to help them curb their spending on the platform. These limits can be easily adjusted at any time to meet your needs.
Self-Exclusion: FanDuel offers a self-exclusion feature that allows users to voluntarily exclude themselves from using the platform for a specified period. During this period, users cannot access their accounts or place any bets.
Time-Out: FanDuel offers a time-out feature that allows users to take a break from using the platform for a specific period, ranging from 24 hours to 30 days.
Reality Check: FanDuel's reality check feature sends users reminders about their gambling activities, such as how much time they have spent on the platform and how much they have won or lost. These reminders help users stay current on their gambling activities and make informed decisions.
Activity Statement: FanDuel provides users with a comprehensive activity statement that tracks their gambling activities, including bets placed, winnings and losses, and account balances. This information helps users monitor how their bets have been performing and the real-money impacts of their wins and losses.