How Close is Joel Embiid to Return From Knee Sprain?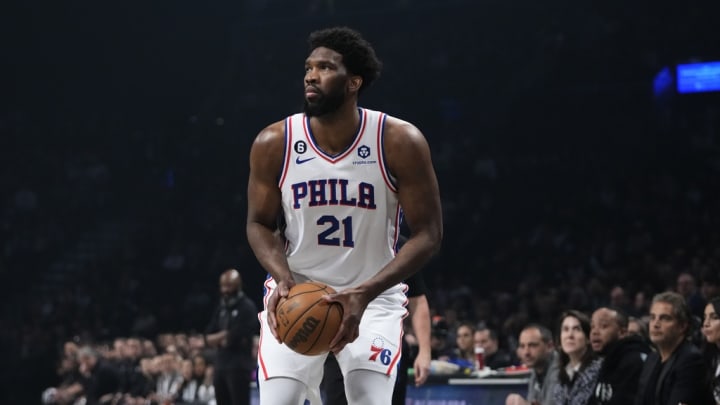 Latest injury update on Philadelphia 76ers star Joel Embiid. / ASSOCIATED PRESS
Philadelphia 76ers star Joel Embiid is listed as doubtful for Game 1 of the NBA Eastern Conference Semifinals against the Boston Celtics on Monday, 10 days after he suffered a multi-ligament injury in his right knee.
By video, Embiid suffered an ACL sprain when he got tangled up with Cam Johnson in Game 3 against the Brooklyn Nets. He also reportedly has damage to his LCL.
Joel Embiid Injury Update
Both ligaments are key to stability in the knee and it's uncommon to injure one without affecting the other, according to the Pro Basketball Docs.
The 7-footer will likely return wearing a knee brace to aid with the stability of his knee and ensure he can't turn a sprain into a full tear.
Based on video of Embiid at Sunday's shootaround, he appears to be a longshot to play in Game 1. He clearly favored his right knee while shooting stationary jump shots and preferred to land on his healthy left leg.
He will have a chance to suit up in Game 2 on Wednesday, but likely won't be at full effectiveness all series.
Embiid averaged 33.1 points, 10.2 rebounds and 4.2 assists per game during the regular season. He currently carries a SIC score of 39, meaning he'd be at about 39% effectiveness if he were to suit up in Game 1.
That score will improve as the series progresses, but with Game 2 on Wednesday and Game 3 on Friday, not much will change in his health over the next few days.
Philadelphia will have to rely on Tyrese Maxey and James Harden to pick up more of the scoring burden, while third-year big Paul Reed will likely play increased minutes.
76ers vs. Celtics Game 1 Odds
Boston is favored by 10 points at home in Game 1 and the over/under is 214.5, according to FanDuel Sportsbook.
The 76ers are +420 to win the series, while the Celtics are -550. Odds are subject to change.
For more NBA injury insights go to Sports Injury Central. Our free weekly newsletter has the best NBA, NFL, CFB and MLB insights from our Pro Sports Doctors plus Free injury-based Picks to give you a unique edge!
Game odds refresh periodically and are subject to change.