Get $150 in Bonus Bets GUARANTEED with FanDuel NFL Draft Promo on Day 3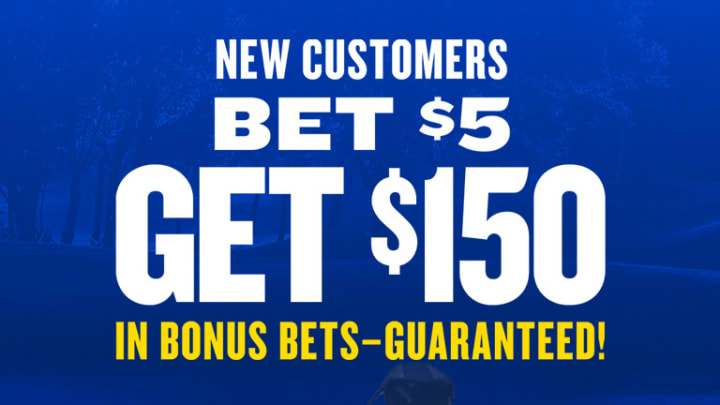 After two exciting days of twists and turns, the 2023 NFL Draft wraps up today with Day 3 of the event. Fortunately for sports bettors, there are still plenty of ways to cash in on Saturday's action with FanDuel Sportsbook's new promo offer.
FanDuel is giving every new customer $150 in bonus bets when they wager $5 with their first bet at the sportsbook. Your bet doesn't even need to win for the bonus to pay out, so you get the $150 in bonus bets either way.
Here's everything you need to know about this amazing FanDuel NFL Draft promo for Day 3 of the event.
How to Use FanDuel's NFL Draft Promo
Deposit: Add $10+ to your new account
Wager: Bet $5+ on any market at FanDuel Sportsbook
Win: Automatically receive $150 in bonus bets
It really is that easy. As noted above, it doesn't matter whether your first wager (which can be on anything, not just the NFL Draft) wins or loses, because you'll receive the $150 bonus either way. And if your $5+ wager does win, you still get paid out in cash like a normal bet.
You should also know that the bonus is automatic, so FanDuel will add the $150 in bonus credits to your account within 72 hours. You don't have to take any additional steps to claim it like entering a code.
Why Choose FanDuel to Bet on the NFL Draft?
User-friendly Interface and Mobile App: FanDuel Sportsbook offers a highly intuitive and easy-to-use interface, making it simple for both beginners and experienced bettors to place bets on the NFL Draft. The mobile app, available for iOS and Android devices, allows users to bet from anywhere, providing a seamless and convenient experience.
Wide Range of Betting Markets: FanDuel Sportsbook covers a comprehensive range of betting markets for the NFL Draft, including player-specific bets, positional bets, and team-focused bets. This variety enables users to find the perfect bets to match their predictions and interests, while also offering unique and creative prop bets to keep things exciting.
Competitive Odds: FanDuel Sportsbook consistently offers competitive odds on the NFL Draft, ensuring that users get the best possible return on their bets.
Expert Analysis and Picks: To help users make informed decisions, FanDuel Sportsbook provides expert analysis, in-depth articles, and data-driven picks for the NFL Draft. This valuable information can give bettors an edge when making their selections and increase their chances of winning.
Live Betting: FanDuel Sportsbook offers live betting options for the NFL Draft, allowing users to place bets as the event unfolds in real-time. This adds an extra layer of excitement to the betting experience.
Trustworthy and Secure Platform: FanDuel Sportsbook is a well-established and reputable sports betting operator, licensed and regulated in multiple jurisdictions across the United States. This ensures a safe and secure betting environment, where users can trust that their personal information and funds are protected.