EPL Fantasy Soccer Cheat Sheet: How to Play Fantasy Soccer for the 2019 Season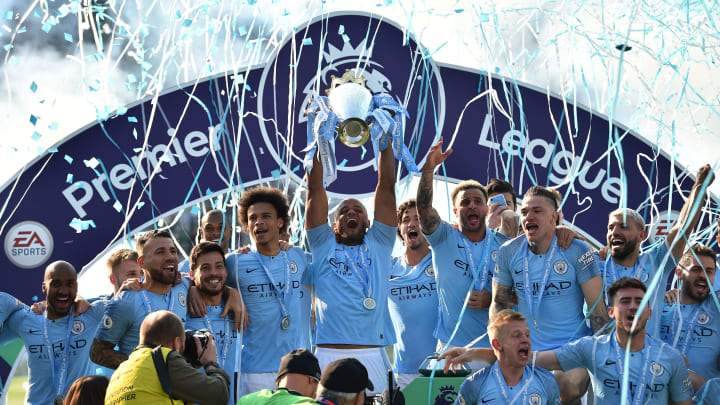 FBL-ENG-PR-BRIGHTON-MAN CITY / GLYN KIRK/Getty Images
From the casual to the crazy, fantasy sports are for every type of fan. They are often the easiest way for someone to become more involved and grow their fandom for a sport or specific team. Fantasy football has taken the reigns as the biggest fantasy sport, but fantasy leagues around other major sports are on the rise as well.
While soccer is arguably the biggest sport in the world, it hasn't taken the next step in terms of fantasy following, largely because its popularity just isn't the same in the United States as abroad, but we want to change that. So, if you're interested in making the jump to play in your first fantasy soccer league, your friends at The Duel have you covered!
How To Play Fantasy Soccer
DRAFT STYLE: The most common way to play any fantasy sport starts with a draft. However, for the English Premier League (EPL), you have two different options. The first option resembles more common fantasy football leagues, featuring a draft with four, six, or eight teams. However, the key difference here lies in the fact that multiple teams can draft the same players.
A standard fantasy soccer roster is constructed as follows:
- 3 Forwards
- 5 Midfielders
- 5 Defenders
- 2 Goalkeepers
Note: Only 11 starting players at a time, including one goalkeeper.
After the draft, you can set your team up the way you want by choosing a specific formation to play (4-4-2, 4-3-3, 3-4-3, etc). It's extremely important to know this, because just like other fantasy sports, you'll probably draft your team based on which formation you want to run.
FANTASY STYLE: The second major option for playing Premier League fantasy is much more complex, as some minor finance management comes into play, as well as an understanding of the league's schedule on a week-by-week basis. You and your friends can create a league from scratch, but you are allowed to pick whichever players you want.
The trick is that you have to build a roster for £100 million in salary, and you can't spend more than this cap. Players' values are on a half-point scale to start the season, ranging from 4.0 to 12.5 points, and each value is based on a player's last season, his potential for the upcoming one, and if he will be a starter or main contributor for his respective club. After the season begins, players' values will also increase or decrease based on their level of performance, so an 8.0 player value might drop to a 7.9 or an 8.1 accordingly.
While it may be difficult to build a roster because of the salary cap, some find this aspect makes it a more interesting style of play. Under this format, teams should be more even from a competitive standpoint, with each fantasy owner having to decide if he/she wants to pay up for a top scorer and have a weaker defender, or even it out by taking two solid, more affordable players.
As if that wasn't enough, you have the option to change your roster week to week. For this, it's essential to know the schedule and which team is playing which opponent for the current and following week. For example, you may have a Manchester United player facing a weaker Aston Villa opponent one week, but playing against a tough club like Liverpool the next. That would be a really tough second matchup, so you might want consider dropping that player after the Aston Villa game to pick up someone who has a better matchup.
However, that player's value can't exceed that of the player who was dropped, because you still have to worry about the salary cap. So if the player you drop is valued at 8.0, his replacement must be equal or lower than this value. It's also important to know that there is no waiver wire, so if you drop said player, you're allowed to pick him back up the following week.
Transfers in Fantasy Soccer
The term for adding or dropping players in fantasy soccer is known as a transfer, which are also factored into the scoring format by each transfer made. Each week, you're awarded one free transfer. If you do not use that free transfer, you get an extra one the week after, but it doesn't stack higher than two free transfer at any given time. Once you use said transfer(s), it costs four points to add every player after that. So if you use your weekly free transfer, but want to add two other players, you will be deducted eight points from your weekly score. Furthermore, if your team scored 62 points that week, your final total would then be 54 points after the eight-point deduction.
Chips or Team Bonuses
Even though there are two different styles of fantasy for the English Premier League, Chips or Team Bonuses are available in both. Each week, your selected team will have a Captain and a Vice Captain. The Captain will receive double the points, so if he scores a total of six points, he'll receive 12 points for the week. The Vice Captain is more of a security blanket though, as that role would only come into effect if the original Captain you picked does not start.
The other bonuses include a Triple Captain, Bench Boost, Free Hit, and Wildcard. The Triple Captain is rather self-explanatory, as your Captain would receive triple the points he scored. The Bench Boost allows you to use your entire roster, as the points scored by your bench will be factored in as well. The Free Hit allows you to make unlimited transfers for a single Gameweek, but your roster will return to how it was beforehand.
Last but not least, is the Wildcard. This Chip allows you to make any and all transfers without deductions in points. For instance, there could be a time in the season where players have a double Gameweek (two games), or you may just want an entirely new roster, and the Wildcard Chip allows you to do this without paying the penalty in points. However, you would still have to be under the £100 million cap.
Fantasy Points Scoring Breakdown
The fantasy scoring format is the same for both fantasy styles, and here's a breakdown of how points are tallied:
- Each goal scored by a goalkeeper or defender: 6 points
- Each goal scored by a midfielder: 5 points
- Each goal scored by a forward: 4 points
- Each assist: 3 points
- Clean sheet by a goalkeeper or defender: 4 points
- Clean sheet by a midfielder: 1 point
- Every 3 shots saved by a goalkeeper: 1 point
- Each Yellow Card: -1 point
- Each Red Card: -3 points
There are also Bonus Points, which utilizes a range of stats to create a Bonus Points System (BPS) score for every player. This means that the three best players in each match will be awarded bonus points: three points to the highest scoring player, two to the second-highest scoring player, and one point to the third-highest scoring player. You can find the full list of rules, as well as the rest of the scoring breakdown by clicking here.
If you do choose to play fantasy soccer this coming season, we hope this rundown gives you an idea of how the game works!
---
Join FanDuel Sportsbook Today. New users get a risk-free bet up to $500. Join Now.
---
Thomas Buckley is not a FanDuel employee. In addition to providing DFS gameplay advice, he also participates in DFS contests on FanDuel using his personal account, username YoungBuck_21. While the strategies and player selections recommended in his articles are his personal views, he may deploy different strategies and player selections when entering contests with his personal account. The views expressed in their articles are the author's alone and do not necessarily reflect the views of FanDuel.