Abracardabra - FanDuel Casino Review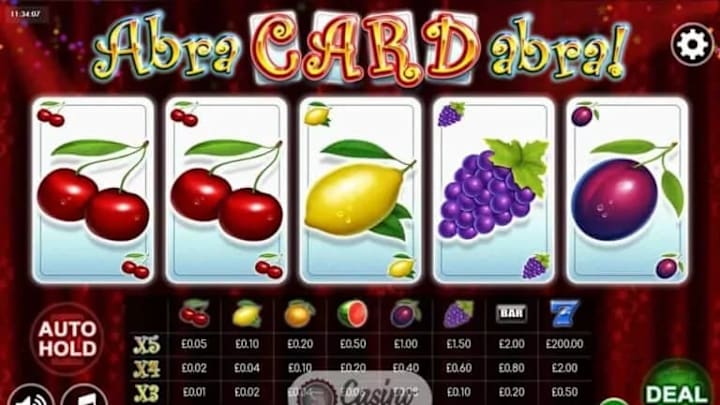 Abracardabra is a blend of slot and poker gaming. This makes it stand out from a lot of other slot games. It is a game for people that enjoy interesting and strange games - the perfect game for players that are in love with slot and poker and are not sure which they prefer.
This game is powered by BetDigital, a major software developer, and is a slot game that has 1 payline and 5 reels. As usual, you are not restricted to playing this game just a single type of device. As long as you have a tablet, a mobile device, or a desktop computer, you can enjoy all the fun that Abracardabra has to offer, anywhere you are.
You don't need a huge bankroll size to play this slot. You can play with 0.02 coins per spin or choose to play with 25 coins for a spin. That's not all. It is also open to gamers of different levels; beginners and veterans alike.
In this game, you might never get used to winning as it is not so common. Nonetheless, when the win comes, it is usually worth it. Its return to player percentage is 95.95%, one of the lower RTPs among lots of modern-day slots. That said, the potential upside is high - you can win as much as 10,000 times the amount you stake.
How to Play Abracardabra Slot
This slot has a layout that is quite different from other slots as it is a blend of a video poker game and a classic slot. It features playing cards that are already positioned on the reels. When the game begins, you will see five cards pop-up. After these cards are shown, you can hold a couple of them. As soon as you click on the Draw button, the cards that are not held will be taken off.
You'll then be dealt more cards until you get to the point where five cards appear. If you are able to get three or more cards positioned on the reel, then you have yourself a win. This shows that the game might have some similarities in style with the way poker is played. Nonetheless, to get a win, you need to have at least three fruit symbols.
To begin playing the game, you simply need to press "Deal". Also, to hold a card, simply click "Hold" on the card you want to hold.
Visuals and Sound
This game has a catchy layout and a soundtrack that will keep you glued to it. Furthermore, it has a backdrop that is similar to what you see in magic shows - a red curtain and a couple of moons and stars. That's not all. On the reels and cards are fruit symbols, blue sevens, and black bar symbols.
This game features an amazing design. The colors of the symbols, the backdrop, and the white cards all create a beautiful contrast that makes this game aesthetically pleasing.
Special Features
the You might be wondering if this game has any bonus features, given that its a bit different from most of the slot games out there. Well, Abracardabra slot has a few nice bonus features.
One of these bonus features is the Magic Hat. This feature gets triggered when a magician's hat appears on the reels. A new card that guarantees a win will appear from this hat. Now, on its own, this might not seem like much. However, if you have been playing for a while and have not gotten the win you desire, then, it could seem like a whole lot.
Apart from the magic hat feature, this slot game comes with the Abarcardabra feature. This feature gets triggered each time at least three bonus cards are seen on the reels. This occurrence leads to the table being cleared and 17 cards dealt.
Conclusion
Do you believe in magic? If yes, then, playing the Abracardabra slot will even make your belief stronger but if no, this Abracardabra slot might change your thought process entirely. Either way, come around the casino and give this game a spin!
---
New FanDuel Casino customers get to play your first day risk-free up to $200 when you sign up today!