ProFootballDoc's 2021 NFL Draft Injury Preview - Quarterbacks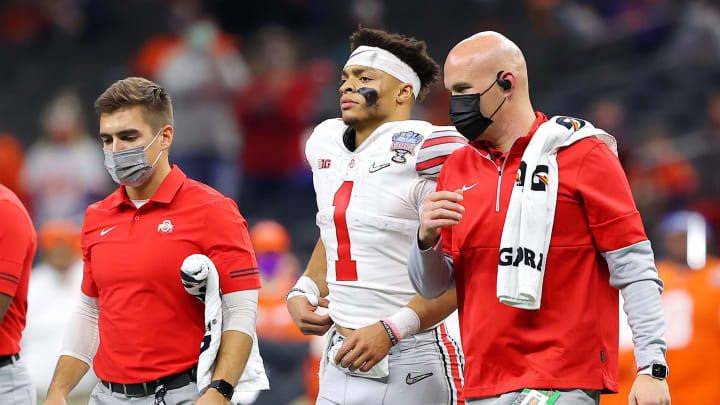 CFP Semifinal at the Allstate Sugar Bowl - Clemson v Ohio State / Kevin C. Cox/Getty Images
Every draft there are risers and fallers, each with their own individual reasons as to why.
Here we focus on the health of key prospects heading into the NFL Draft, as this is a substantial factor in where they will land. All teams have completed their medical evaluations and created their big boards with some leaving players off due to injury concerns
Outlined below are ProFootballDoc's concerns regarding the 2021 QB draft class.
Justin Fields Injury History
Justin Fields' main injury played out on national TV and created controversy, but also showed toughness as he played through after receiving an in-game injection in the medical tent.
The injection was likely for rib and/or hip pointer issues.
A week before the draft it was reported that the Ohio St. product has epilepsy. The seizure disorder should not affect his draft stock and Fields should round out as a top-5 pick. Epilepsy is of no concern medically going forward and the same goes for his previous index finger fracture.
Fields did enough in his final season to warrant a high draft selection as he lit up the Big 10 with 27 total touchdowns and a stellar 70.2 completion percentage. There does not seem to be any worries medically that will affect his draft status.
Mac Jones Injury History
There is little medical information on Mac Jones and the limited examinations due to the abbreviated combine make this a unique situation with some potential for future concern.
Jones hasn't missed time in his collegiate career but there is some rumor floating around about potential issues with his throwing elbow. There has been nothing formally reported in the media, but he did get an MRI to evaluate said elbow and his ulnar collateral ligament.
We have not seen any issues on video with his throwing or mechanics and Jones did not should issue during his final season where he threw for 41 touchdowns. Certainly, we are not failing Jones on his physical but the team that selects him best take a careful look at him for the risk of potential Tommy John surgery in the future.
Trey Lance Injury History
The projected first-round QB out of North Dakota St. has played in one game since being seen on crutches in February of 2020.
The injury has not been detailed and is said to date back to high school, although he completed the 2019 season before the procedure. Any worry here stems from lack of information and the fact that he did not play in 2020 as Trey Lance didn't opt out due to COVID-19, but his school did. There was no fall football for North Dakota State and with their season pushed to the spring, Lance decided to move on and prepare for the NFL.
His 2019 season was perfect as he threw for 28 touchdowns and no interceptions while running for another 14 scores. We are sure he was thoroughly examined at the limited Combines and we have not heard any worries about him medically.
Trevor Lawrence Injury History
Normally a QB with recent shoulder surgery would cause a lot of consternation before the draft but not in this case. Trevor Lawrence has been the presumptive number one overall selection for years and will be despite the left non-throwing shoulder surgery.
It is something he played through, but undergoing surgery indicates a labral tear and instability. Despite this, Lawrence tossed for a career high 69.2 completion percentage and overall had an outstanding college career throwing for a total of 90 touchdowns in three years.
The Clemson superstar did not attend the limited medical portion of the Combines as he got married on that weekend. It is likely the Jaguars medical staff were the ones asked to review his case and conduct a telemedicine visit.
Lawrence will not be fully cleared until training camp. Normally, the surgery would affect the offseason program but given the pandemic and the NFLPA citing safety issues, the voluntary OTAs will have limited attendance. Our guess is Lawrence will do enough to learn the new system and what normally would be a big concern is in fact a small one going forward.
Kyle Trask Injury History
Foot concerns are the key here for the Florida Gator. Kyle Trask has a history of fracture and surgery on both sides.
Piecing together the injury history, Trask likely has had Jones 5th metatarsal stress related fractures on the left in 2017 and the right in 2018. The bad news is this pattern of injury is of concern. The concern is for re-fracture if not completely healed as this recently happened to star Los Angeles Chargers safety Derwin James as we documented in our 2019 preseason injury preview.
Trask underwent a fantastic senior season throwing a career high 43 touchdowns and almost 4300 yards leading to a likely second or third round selection, but teams should mind his foot concerns before drafting the signal caller.
Zach Wilson Injury History
This may be the biggest injury concern among the QB draft class. Any time there is a throwing shoulder surgery there is concern.
Doing medical detective work, Wilson likely had a posterior labrum repair of this throwing shoulder in early 2019 but has returned to play well as he tossed 33 touchdowns in his final season at BYU. T
he injury reportedly stemmed from high school and allowed him to throw, but caused pain when landing on the shoulder. By video of the type of brace/sling used post-operatively along with the reports of symptoms, leads me to the conclusion that this may be a more unusual type of labral injury.
It is interesting that the New York Jets have stated the late trade of QB Sam Darnold was due to the fact that they wanted to see the draft prospects throw in person first, but the trade happened before the Jets got to examine Wilson's shoulder in person.
Obviously, he can throw and play football well as we saw in his junior season. The concern is what happens when he takes multiple NFL hits and the risk of recurrence to his throwing shoulder. Wilson has shown toughness returning from in season thumb fracture surgery in 2019. It seems clear the Jets are interested in drafting him with the second overall pick but hopefully the shoulder will be a forgotten issue and never act up as he begins his pro career.
---
ProFootballDoc's expert injury and health insights have proven over several seasons to give a huge edge for wagering, DFS and fantasy players. To access more insights for the 2021 NFL season sign up and get all of content first and free here: https://profootballdoc.com/#/register