Eagles Dealing With Significant OL Issues Heading Into Week 2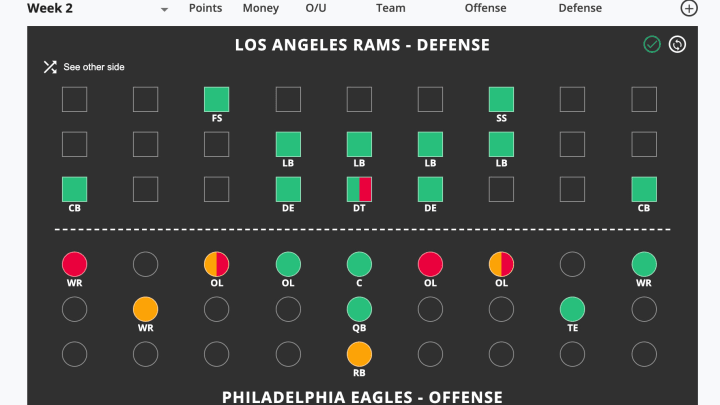 Key pieces of the Eagles offensive line hampered by injury /
It's only Week 2 but the Philadelphia Eagles already have their backs to the wall. They fell victim to the biggest upset of Week 1 against the Washington Football Team, and injuries had a lot to do with it. Their health picture has not improved.
Going into the opening Sunday, we called out that the Eagles would be hampered at 3 out 5 spots of the offensive line. In a pandemic shortened offseason/preseason, it is hard for any line to gel and any losses to injury are accentuated. Coach Ron Rivera's team took advantage with eight sacks and multiple turnovers to convert the victory.
Although RT Lane Johnson is rumored to be back this week after ankle surgery a couple of weeks ago, one cannot count on that. After all, the Eagles never even revealed the ankle surgery for weeks, plus they positioned that Miles Sanders would play last week and he didn't even travel. Even if Johnson plays, he may not be fully effective and the line as a whole has had little chance to play as a unit. Against a Rams unit that features Aaron Donald and Michael Brockers, a healthy and dominant Rams defensive line should cause problems for Wentz and Co.
Sanders could play this week but it seems a stretch he'll be 100% after being so far from suiting up that he didn't travel with the team. Limited practice video tweeted by beat reporters show him not to be at full speed yet.
The injuries have now spread further to the defensive line with top offseason acquisition Javon Hargrave and Derek Barnett already missing Week 1. Now, Brandon Graham is dealing with a concussion while Vinny Curry has been placed on IR with a significant hamstring issue. 
Overall the Rams overall health grade of A- is one of the bigger differentials of the week versus the Eagles overall health grade of C+.
Explanation of Injury Index and Field View
The Injury Index is a letter grade given to the health of each team.  It is not related to talent or schemes.  The Injury Index is published approximately 48 hours before each game.  Check out the overall injury grades to see where injury mismatches exist each week. How does a team's run offense match up with the opponent's run defense?  What about the passing game?  It's all there in our easy to use Injury Index. Mismatches will jump off the page, which may lead you to a straight bet, an over/under wager or to a specific fantasy player.
The Field View allows you to see all the information explained above, in a colorful, visual presentation. This view shows you the advantages and disadvantages of each team's offense and defense which will allow you to make the right decisions throughout the week as well as on gameday. Each player hampered by injury will have a hover-around loaded with informational nuggets that update throughout the week. Coupling both views is a valuable tool and one you can find at profootballdoc.com.
As the Official FanDuel Injury Expert, we will share some of the secrets from www.profootballdoc.com. Look for the free offers only for FanDuel members.