NFL - Betting - deleted
Panthers Odds to Win NFC South Remain Bleak Following Sam Darnold Trade on FanDuel Sportsbook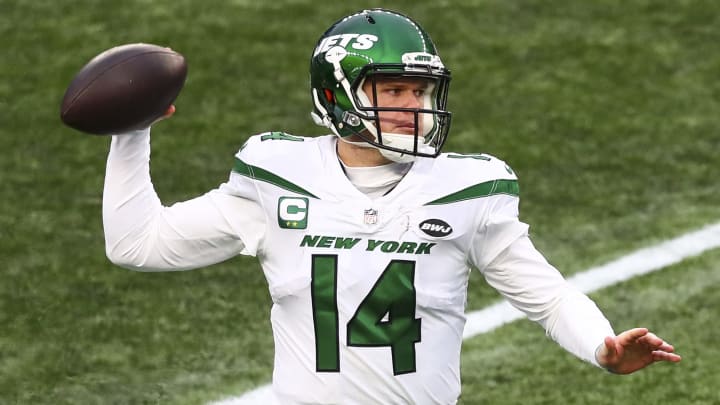 Panthers Odds to Win NFC South Remain Bleak Following Sam Darnold Trade on FanDuel Sportsbook. / Adam Glanzman/Getty Images
Breaking news shocked the NFL world on Monday as the Carolina Panthers acquired quarterback Sam Darnold from the New York Jets in exchange for a sixth-round pick in the 2021 NFL Draft, as well as second- and a fourth-round pick in 2022.
While the Panthers hope that they can rehabilitate Darnold into the quarterback that the Jets dreamed he'd end up being when they drafted him with the No. 3 pick in 2018, it could be easier said than done.
The Darnold trade also didn't do much in improving the Panthers' odds of winning the NFC South. According to odds on FanDuel Sportsbook, Carolina's odds of winning the division sit at +750, only ahead of the Atlanta Falcons (+850).
The Panthers finished in third place in the NFC South last season with a 5-11-0 record. It was their fourth time missing the playoffs in five seasons, indicating that the team has a lot of work to do to improve beyond adding Darnold.
While there's a chance this creates a QB competition with Teddy Bridgewater, there's also a chance Bridgewater is dealt and Darnold is the QB1 automatically. Last season, Darnold appeared in just 12 games, of which the Jets went 2-10-0. He managed to record 2,208 yards and 9 touchdowns to 11 interceptions during that time. While Darnold's stats were disappointing in comparison to either of his first two seasons, a lot of the blame can be put on the fact that the Jets were just that bad.
Another thing that could bode well for Darnold is that he should be hit a lot less with the Panthers than he was with the Jets. Despite appearing in just 12 games last season, Darnold was sacked 35 times, which was the 9th-highest total in the league. Meanwhile, Teddy Bridgewater, the Panthers' quarterback last season, was his 31 times in 15 games.
The Tampa Bay Buccaneers are favored to win the NFC South next season at -150, followed by the Saints at +260.
---
Sign up for FanDuel Sportsbook today and get your first bet risk free for up to $1,000!