Rothstein 45: Feb 7, 2022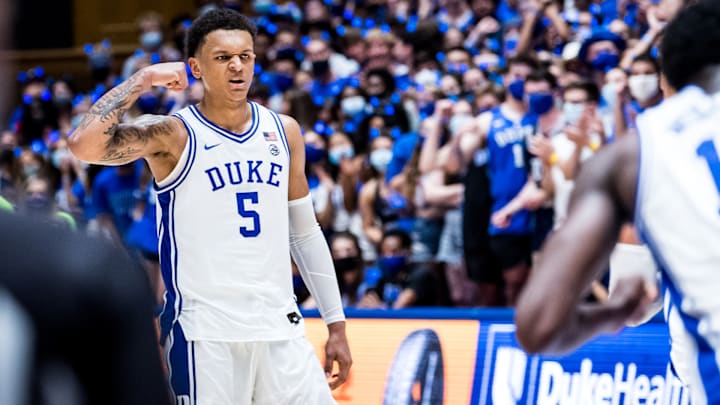 This week's Rothstein 45 is now live!
Check out our rankings below:
Rothstein 45 - 2/27/2022
1. Auburn: Barely survived against Georgia. 
2. Gonzaga: Chet Holmgren had a double-double — at halftime --- on Saturday against BYU. 
3. Duke: The highest ceiling in college basketball. 
4. Kentucky: Has not lost at full strength in 2022. 
5. Purdue: Host Illinois on Tuesday in West Lafayette.
6. Arizona: Azuolas Tubelis is a stud. 
7. Houston: I'm running out of adjectives for the coaching job that Kelvin Sampson has done this season.
8. Kansas: Made a statement on Saturday against Baylor.
9. Texas Tech: The defense never rests. 
10. Baylor: Saturday's loss at Kansas was its worst defeat since 2019. 
11. Providence: Ed Cooley --- as of today --- should be the National Coach of the Year. 
12. Ohio State: Justin Ahrens made four three-point shots on Sunday against Maryland.
13. UCLA: Had a brutal weekend in the desert.
14. Illinois: Has a better record through 22 games than it did last season. 
15. Wisconsin: Johnny Davis is just 7-32 from the field in his last two games. 
16. Marquette: Justin Lewis is a Big East Player of the Year candidate.
17. Villanova: Eric Dixon went for 24 and 12 on Saturday against UConn. 
18. Tennessee: Has quietly won five straight conference games. 
19. Michigan State: Lost by 21 on Saturday at Rutgers. 
20. Texas: Brock Cunningham has emerged as a starter. 
21. USC: Showed progress in Saturday's loss at Arizona.
22. Alabama: Shot 3-30 from three-point range in Saturday's loss to Kentucky. 
23. UConn: At a crossroads. 
24. Iowa State: Has lost four of its last five conference games.
25. Saint Mary's: The second-best team in the WCC. 
26. Oregon: 11-2 when Jacob Young scores in double figures. 
27. Wyoming: Graham Ike is a problem.
28. Boise State: Tyson Degenhart is one of America's best kept secrets. 
29. Colorado State: John Tonje is starting to emerge. 
30. Loyola Chicago: Lucas Williamson was huge in Sunday's win at Missouri State.
31. Seton Hall: Need to get Bryce Aiken back in the lineup. 
32. Xavier: A daunting stretch awaits. 
33. Indiana: Three of its next four games are on the road. 
34. Miami: On a two-game losing streak. 
35. Murray State: KJ Williams has three double doubles in his last five games. 
36. Arkansas: On an eight-game winning streak.
37. TCU: Saturday's home loss to Kansas State was a setback.  
38. LSU: Needs to get its mojo back.
39. Creighton: Has beaten both UConn and Marquette on the road. 
40. Davidson: Still the class of the Atlantic 10. 
41. San Diego State: Missing a secondary scorer. 
42. Notre Dame: Paul Atkinson has become a force.
43. Wake Forest: Indiana State transfer Jake LaRavia is a gem.
44. Iowa: Keegan Murray went for 24 and 15 in Sunday's win over Minnesota.
45. Florida: Won its last two games by a total of six points.
---
Jon Rothstein has been a college basketball insider for CBS Sports since 2010 and a contributor to the CBS Broadcast Network since 2016. He is also the host of the College Hoops Today Podcast via Compass Media Networks. Rothstein is also an in-studio correspondent for both WFAN and CBS Sports Radio.
---
Sign up for FanDuel Sportsbook today and get your first bet risk free for up to $1,000!