Buccaneers Reveal Massive Changes to Coaching Staff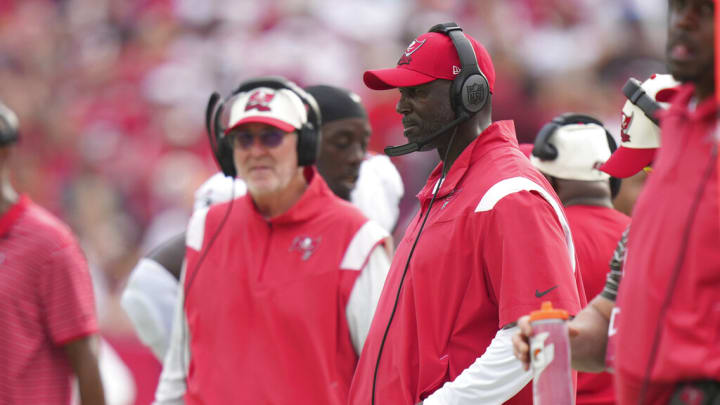 The Tampa Bay Buccaneers have completely overhauled their coaching staff. / ASSOCIATED PRESS
The Tampa Bay Buccaneers' nightmare season is over, but the fallout has only just begun.
After going 8-9 during the regular season before bowing out against the Dallas Cowboys in the Wild Card Round, the Buccaneers have decided to completely overhaul their leadership group. In what amounted to a purge, Tampa Bay fired numerous members of their coaching staff on Thursday while a handful of others announced their retirement.
Buccaneers Coaching Changes
The biggest loss was offensive coordinator Byron Leftwich, who oversaw one of the worst offenses in the NFL this year despite having Tom Brady at quarterback. A number of assistants either abandoned ship or were let go as well, including the only female defensive coach in the NFL (Lori Locust).
If anything, this shows how quickly things can change in the NFL. Less than two years ago, the Bucs were Super Bowl champions. Now they're coming off a losing season and need to replace virtually their entire coaching staff along with their quarterback, as Brady is almost guaranteed to leave as well.
This essentially closes the book on the Brady era in Tampa Bay. The Bucs tried to run it back one more time this year, bringing Brady out of retirement and kicking Bruce Arians upstairs. It didn't turn out the way they hoped, however, and now it's time to start over.