49ers Changing Their Tune on Jimmy Garoppolo Trade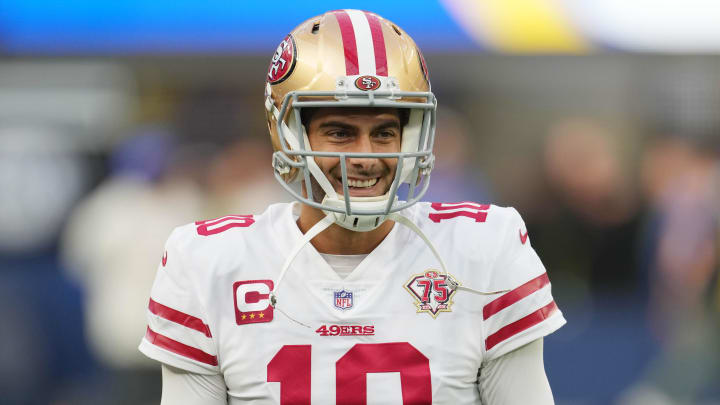 Jimmy G might stay in San Francisco next season. / Kirby Lee-USA TODAY Sports
Heading into the offseason, the San Francisco 49ers were full expected to trade starting quarterback Jimmy Garoppolo. And while it's still very much on the table. there is some growing belief, even within the organization, that transaction might be on hold for another year.
Jimmy Garoppolo Trade News
Both GM John Lynch and head coach Kyle Shanahan spoke about this recently with Lynch saying they have no plans to release Jimmy G and Shanahan claiming he could remain in San Francisco next season.
Jimmy G's offseason surgery has slowed a potential trade and in that time a lot of potential suitors have found other solutions, like the Colts trading for Matt Ryan, the Saints re-signing Jameis Winston and the Falcons replacing Ryan with Marcus Mariota.
Trading Jimmy G would save the 49ers a ton of cap space, but they're also a team ready to compete for a Super Bowl with Jimmy G and all his flaws. If that's not true with the incumbent Trey Lance yet, it might be wise to keep Jimmy G in town for another year.
It still seems the goal is to deal Jimmy G for the right price, but the door is certainly open to keep him in the Bay Area for one more season.
The 49ers hold early +1500 odds (T-6th) to win Super Bowl 57 on FanDuel Sportsbook.