TODAY ONLY: UFC 285 $1,000 FanDuel Sportsbook Promo for Jon Jones vs Ciryl Gane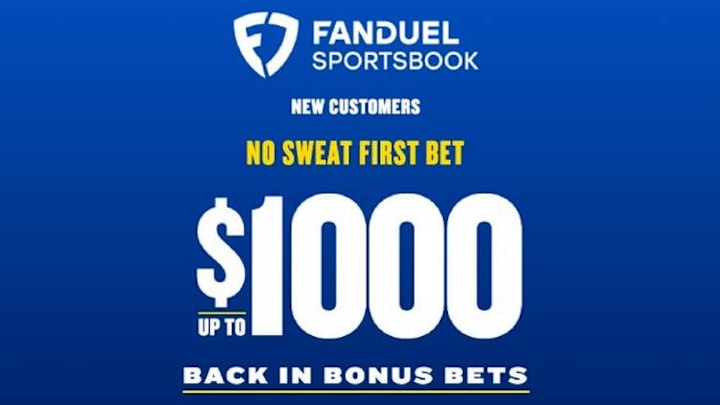 The long wait is over. After a three-year absence, Jon Jones is stepping back into the octagon and making his UFC heavyweight debut. The stakes couldn't be any higher, as he takes on Ciryl Gane for the UFC Heavyweight Championship.
The stakes don't need to feel quite so high for bettors, though, thanks to FanDuel Sportsbook's incredible offer. You can wager up to $1,000 on this fight without having to sweat taking a major loss. For today only, FanDuel will insure new users' first bets on Jon Jones vs Ciryl Gane.
Here's how to cash in before the offer expires.
FanDuel UFC Promo Code
Make your first deposit (it must be at least $10, but you'll want to deposit at least as much as you plan to bet, of course)
Make your first bet on Jon Jones vs Ciryl Gane
After that, everything is automatic.
If your bet wins, you win. Simple as that, and it works just like usual. Your winnings are paid out in cash after the fight. But you already know how that part works.
The insurance is what makes this a no-sweat offer. Whatever your bet, as long as it's not more than $1,000, FanDuel will automatically refund your loss with bet credits. So if you bet $1,000 on Jon Jones but Gane pulls off the upset, you'll get $1K right back in your account to wager with again. You don't need to bet the full $1,000, either. If you bet $100 and lose, you'll be refunded that $100, and so on.
This is about as unpredictable a title fight as we'll ever see with a huge number of question marks. How will Jones look after such a long layoff? Were his recent underwhelming performances a sign that he's declining late in his career? Will Gane's size be an X factor? Will his defensive wrestling weakness cost him?
With so many moving pieces, it can be hard for bettors to feel really confident in picking either side of this fight. But thanks to FanDuel, you really don't need to sweat things so much.
A free $1,000 won't be available for long, so make sure to sign up and place your bet today!