Tuli Tuipulotu Complete NFL Draft Profile (USC D-Lineman's Versatility Makes For Polarizing Value)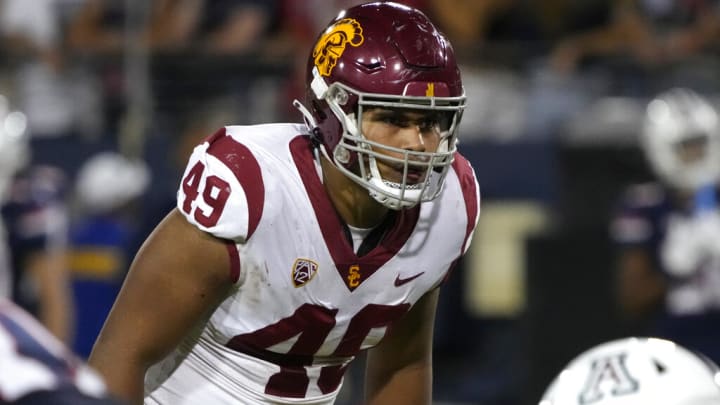 Full NFL Draft profile for USC's Tuli Tuipulotu, including projections, draft stock, stats and highlights. / ASSOCIATED PRESS
USC defensive lineman Tuli Tuipulotu is headed to the 2023 NFL Draft after producing some truly elite numbers in a breakout 2022 season. Tuipuloto thrived both inside and on the edge, racking up a ridiculous 22.0 TFLs and 13.5 sacks in his final season with the Trojans.
Here's everything you need to know about Tuli Tuipulotu heading into the 2023 NFL Draft.
Tuli Tuipulotu Draft Stock & Mock Draft Projections
| Mock Draft | Team | Round | Overall Pick |
| --- | --- | --- | --- |
| Walter Football | Chicago Bears | 2 | 53 |
| Sporting News | Los Angeles Rams | 3 | 77 |
| CBS Sports | Chicago Bears | 2 | 53 |
| Pro Football Network | Cincinnati Bengals | 3 | 92 |
| ESPN | Los Angeles Chargers | 3 | 85 |
Mock draft sources accurate as of 4/22: Walter Football, Sporting News, CBS Sports, Pro Football Network, ESPN.
Projected Draft Round: Round 3 (2), Round 2 (3)
Projected Team: Bears (2), Rams (1), Bengals (1), Chargers (1)
Tuli Tuipulotu Scouting Report
Tuli Tuipulotu is an edge rusher hailing from the University of Southern California (USC). Standing at 6'3" and weighing 266 pounds, Tuipulotu possesses an intriguing blend of size, strength, and athleticism that allows him to play as an interior or edge defender in various defensive fronts.
His versatility in alignment is one of his most significant assets, as he has demonstrated the ability to play effectively from 1-technique to the wide nine. This makes Tuipulotu an appealing prospect for teams looking for a player who can contribute to multiple aspects of the defense. His agility and short-space athleticism are also impressive for a player of his size, allowing him to maneuver around the field with ease and make plays when needed.
Tuipulotu's motor is another standout aspect of his game. He plays with a relentless approach from the first snap to the last, consistently pushing to finish plays and displaying urgency in his pursuit of the ball carrier. He has a powerful rushing style, using his strength and decent bend to overwhelm opposing linemen. However, it's worth noting that he may struggle to win with his get-off alone at the NFL level.
On the other hand, Tuipulotu does have some weaknesses that could impact his success in the NFL. His lack of desired mass and length on the inside and outside may hinder his effectiveness in certain situations. Additionally, his rush can sometimes become too straight-legged, and his closing quickness to the quarterback is below average.
Tuipulotu also tends to freestyle and lose his run fits, which could lead to issues with containment range as an edge defender. He may struggle to build momentum when his initial move is neutralized, and his tackling could be more consistent.
Despite these concerns, Tuli Tuipulotu remains a solid prospect in the 2023 NFL Draft. His versatility, agility, and relentless motor make him an enticing option for teams in need of a defensive playmaker. While he may need to address some weaknesses to reach his full potential, Tuipulotu has the tools and drive to become a valuable contributor at the professional level.
Tuli Tuipulotu NFL Draft Prediction
Tuipulotu's versatility is going to be polarizing for NFL teams, with some seeing it as a plus while others will worry about his ability to be a high-level contributor in any one area.
That reduced market could have him slide a little lower than his elite 2022 contributions might make it look like he'll go, but that doesn't mean he's not going to hear his name called on the second night of the draft.
The Chicago Bears are a team looking for defensive line help, and as a rebuilding team they can afford the kind of high-risk high-reward bet you're taking by drafting a guy like Tuipulotu.
Prediction: Chicago Bears (Round 3, 64th overall)
Tuli Tuipulotu NFL Combine Results
| Drill/Measurement | Result |
| --- | --- |
| Height | 6'3 1/4" |
| Weight | 266 lbs |
| Arm Length | 32 1/4" |
| Wingspan | 77 7/8" |
| Hand Size | 10 1/8" |
| 40-Yard Dash | - |
| Bench Press | - |
| Broad Jump | - |
| Vertical Jump | - |
| 20-Yard Shuttle | - |
| 3-Cone | - |
Check out more NFL Draft coverage from The Duel:
Tuli Tuipulotu USC Stats
| Year | School | Games | Tackles (Solo) | TFLs | Sacks |
| --- | --- | --- | --- | --- | --- |
| 2020 | USC | 5 | 22 (12) | 2.5 | 2.0 |
| 2021 | USC | 12 | 48 (24) | 7.5 | 5.5 |
| 2022 | USC | 14 | 46 (31) | 22.0 | 13.5 |
Tuli Tuipulotu USC Highlights