Sapphire Spin - FanDuel Casino Review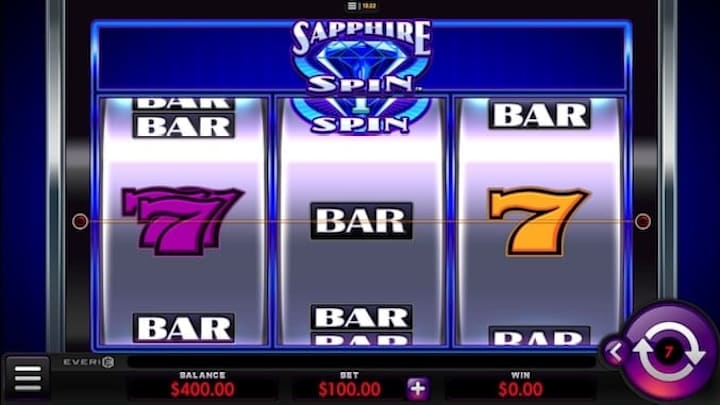 If you've been on the lookout for a simple slot to enjoy, then Everi's Sapphire Spin slot is just the thing for you. Casino slots do not come as straightforward as this one. With its three-reel and one-payline layout, it's very similar to slots that most casino lovers have gotten used to over the years. That's not to say that this game doesn't come with any interesting additional features though. You just wouldn't know it at first glance.
Sapphire Spin was released in 2019. It has three reels and two rows across a single payline. Everi has not officially disclosed the RTP of this game, but judging from similar online slots, it's estimated to be at least 95%.
How to Play Sapphire Spin Slot
The single payline feature on this slot is not indicative of its winning potentials. Players can rake in wins of up to 4,000x their stake, including the chance to win up to $800,000. Placing your bet is the first thing to do when you are ready to try out Sapphire Spin. Bets can range between 0.25 and 200, and there are two bet levels. Placing your bet at Level 2 equals doubling your stake amount. You can use the sliders in the corner of the screen to adjust your bet amount and level.
The simplicity of this slot shows up is in its single payline, so you won't need to worry about how many paylines to activate. After choosing your stake amount, you may proceed to spin the reels. Of course, if you would like for that to be done automatically, just select the Autospin button and set the number of spins you want. Players are allowed up to 100 spins with the Autospin feature. There's also a quick spin mode for players who are looking to speed up the spinning process.
The symbols on display are the second evidence of how straightforward this slot is. They come in the form of 7s and BARs. The BAR symbols can either be single, double, or triple, each paying 5x, 10x, and 20x your stake respectively. 
The 7 symbols are of higher value than their BAR counterparts, and they come in three different colors: yellow, aqua, and purple. The yellow 7 symbol pays 30x your stake, aqua pays 50x, and the purple pays 100x. The highest paying symbol in the game is the Sapphire Spin logo symbol - it comes with a massive 400x worth! To win, you need to land matching symbols across the slot's single payline - easy as you like. 
Sapphire Spin Slot Visuals and Sounds
The visuals on Sapphire Spin slot are not going to be the most eye-catching you've seen, but they remain an attractive sight. The name of the game is drawn boldly atop the screen, with a large blue diamond sandwiched between the words. The reels are divided by electric blue lines that cast a glow across the screen. A sleek metal frame borders the game and gives it a slightly future-themed feel, complimenting the blue theme perfectly. 
The slot's soundtrack is in keeping with its simplicity. Their soothing, repetitive lines are reminiscent of a Las Vegas brick-and-mortar casino.     
Special Features in Sapphire Spin Slot
Sapphire Spin's bonus features include free spins and high-paying Wilds and Scatters. To qualify for the bonus rounds, you have to set your bet level at level 2, meaning that the minimum acceptable stake is 0.50 per spin. 
The Sapphire Spin video slot logo acts as the Wild symbol, substituting for all other symbols to complete winning combinations. Landing a single Wild on the payline will reward you with a win equal to your initial bet, and two Wilds will give you 2x your stake. 
The free spins are triggered when you land the special numbered wilds. These wilds have the numbers 1, 2, 3, 4 displayed on them, and they give you free spins equal to the number displayed. It is possible to land more than one of these wilds on the payline.
When this happens, the numbers are added to determine the number of free spins. If you land even more numbered wilds, then you get more free spins. This bonus round goes on until you don't get any more numbered wilds, or until you reach the maximum number of bonus rounds - 29.
Conclusion  
Sapphire Spin is perfect if your focus is on winning, instead of grand visuals and distracting themes. The game's maximum win of $800,000 is enticing enough for players across all pocket levels. Unlike similar slots, the simplicity of this game works in its favor, especially considering that casino newbies can master the gameplay in no time.
---
New FanDuel Casino customers get to play your first day risk-free up to $200 when you sign up today!