Printable Southland Basketball Conference Tournament Bracket 2023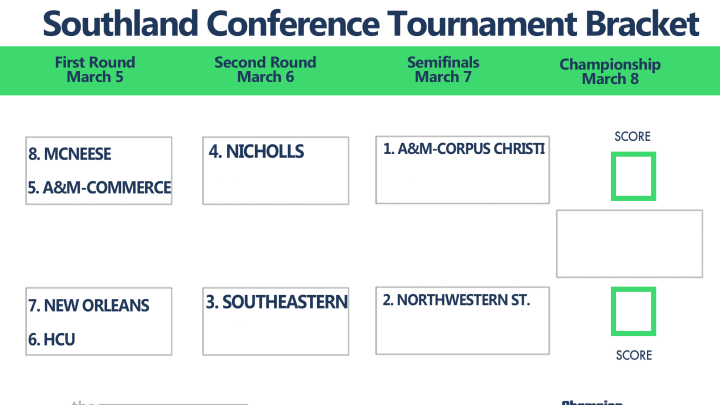 2023 Southland conference basketball tournament bracket. / The Duel
The best time of year for college basketball fans is upon us. Even casual fans of the sport know the obvious excitement of the NCAA Tournament, but March Madness is already here. The conference tournaments bring their own non-stop action through the early parts of the month.
Keeping track of all these tournaments can be tricky, but The Duel is here to help with full brackets for each of the tournaments. Let's take a look at the Southland Conference.
2023 Southland Conference Tournament Bracket
The 2023 Southland basketball conference tournament follows a somewhat unique format that resembles a ladder tournament as much as it does a typical single-elimination bracket.
The tournament starts with the 5, 6, 7 and 8 seeds kicking off the first round. These teams would need to win four straight games to be champions. The 3 and 4 seeds get a bye to the second round, requiring just three straight wins to be champs. Meanwhile, the 1 and 2 seeds would only need two wins to be crowned, as they receive a bye to the semifinals.
To view or print the full-size Southland Conference tournament bracket PDF click here.
2023 Southland conference basketball tournament bracket. / The Duel
| Date | Round | Matchup |
| --- | --- | --- |
| March 5 | First Round | McNeese vs. Texas A&M Commerce |
| March 5 | First Round | New Orleans vs. HCU |
| March 6 | Second Round | Nicholls vs. TBD |
| March 6 | Second Round | Southeastern vs. TBD |
| March 7 | Semifinals | Texas A&M Corpus Christi vs. TBD |
| March 7 | Semifinals | Northwestern State vs. TBD |
| March 8 | Championship | TBD vs. TBD |
2023 Southland Conference Tournament Betting Promo
FanDuel Sportsbook gives you the absolute best opportunity to cash in on the 2023 Southland tournament. New users who sign up today will get their first bet fully insured for up to $1,000.
So if you sign up at the link below and lose your first wager, FanDuel will automatically credit your account with a full refund (up to $1,000) in the form of bet credits. And of course, if you win your bet, then you get paid out in straight cash like usual. Use this link to sign up for FanDuel Sportsbook and claim your offer!
Looking for printable brackets for any of the other conference tournaments? Click on any of the conferences below to view their 2023 basketball tournament brackets.