Oak Hill Weather: Thursday Forecast for 2023 PGA Championship Round 1 Includes Chilly Start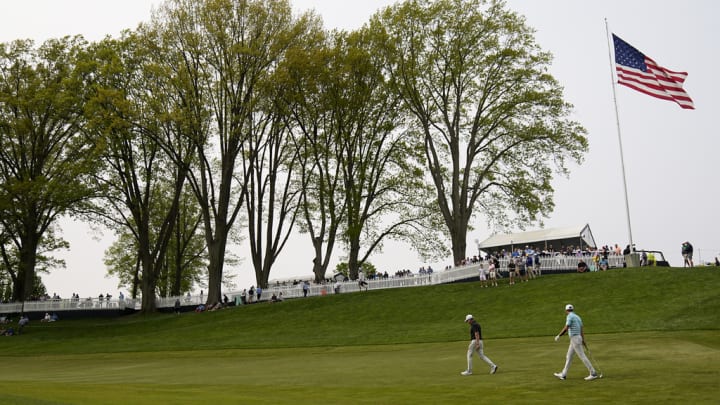 Oak Hill weather including Thursday forecast for PGA Championship at Oak Hill Country Club in Pittsford, New York. / ASSOCIATED PRESS
The PGA Championship is almost here, which means golf fans and bettors alike are looking forward to the start of the tournament on Thursday, May 18 at Oak Hill Country Club in Rochester, New York.
While many are curious about who will win the second major of the season, viewers should also monitor the weather forecast for the first day of the tournament before placing any bets. That's because the weather could have a considerable impact on playing conditions and affect who makes the cut after Day 2.
Oak Hill Country Club Weather
Like all outdoor sporting events, the PGA Championship is at the mercy of Mother Nature. That was certainly the case during The Masters last month at Augusta, where nasty weather conditions halted and delayed play several times throughout the tournament. Fortunately, the golfers persevered and were still able to wrap things up on Sunday with Jon Rahm taking home the green jacket.
Due to its location in upstate New York near Lake Ontario, Oak Hill is vulnerable to lake effects like heavy precipitation, cooler temperatures and generally unpredictable weather. That can make navigating an already-difficult course even more challenging for golfers, who may have to deal with wind and cold, wet conditions.
PGA Championship Weather Thursday Round 1
Fortunately for the golfers and attendees, the weather forecast for Day 1 of the tournament on Thursday looks quite pleasant. According to AccuWeather, the forecast calls for a nice spring day with a high of 65 degrees. The day will be partly sunny with 26% cloud cover and a slight breeze of 7 mph with gusts up to 14 mph.
Golfers with early tee times may need to bundle up, however, as there is currently a freeze warning in effect until 8 a.m. ET on Thursday. The temperature is expected to be just 38 degrees for the start of the tournament at 7 a.m. ET and won't climb above 50 degrees until around 9:30 or so, so the cold could be a factor early in the day.
For more of The Duel's PGA Championship coverage, see below: