New Casino Games Spotlight: Goldstruck Blasts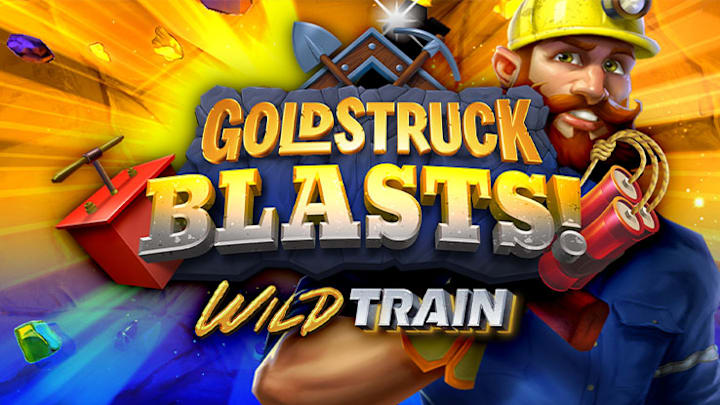 New Casino Games Spotlight: Goldstruck Blasts
Goldstruck Blasts is a relatively new slot machine from High 5 games. In this game, you'll go on a short mining expedition in the hopes of unearthing the game's jackpot. If you're extremely fortunate, you can win as much as 5,769 times your initial wager.
Players stand to double their winnings thanks to the game's many bonus features like multipliers, free spins and special symbols. If you want to know how to play this game and why it's caused quite a stir among gamblers, then you should read this Goldstruck Blasts Slot review. We're going to tell you everything you need to know about this online real money slot and where you can give it a spin at FanDuel Casino.
How to Play Goldstruck Blasts Slot
Although the format of Goldstruck Blasts slot's 6 reels and 6 rows is a little out of the ordinary, the game's 20 win lines are actually quite standard. The gameplay of Goldstruck is impressive nonetheless. With so many moving parts and features, this High 5 Games slot is not only entertaining but also presents a greater challenge to some gamers. We'll show you the ropes of Goldstruck Blasts and get you started on that slot machine.
To place a wager, click the yellow "Bet" button and enter your bet amount. The minimum bet in Wild Train is $0.20 with a multiplier of 1x, while the maximum is $200 with a multiplier of 1,000x.
With the "+" and "i" buttons, you can access the slot's help system and learn more about Goldstruck Blasts. If you don't want to play manually, you can use the Autospin button and the reels will begin to spin.
Goldstruck Blasts is a high-volatility real-money slot machine with an RTP of 96%. As such, the winning combinations appear less frequently and the overall risk is greater.
Goldstruck Blasts Slot Visuals and Sounds
Goldstruck Blasts Slot machine has an excellent design in terms of aesthetics, detail and color scheme. You'll appreciate the graphics on this mining-themed slot. The backdrop features an animated mine with shimmering gorgeous gems and moving carts full of gold. This High 5 Games slot even features more Goldstruck Explosions and the background music is fantastic, adding to the overall experience.
This game features a lot of symbols like gems (teal, orange, pink green, and purple, all with the same value), the lamp, the canary and the lady miner. All of these make up the major symbols, while the other symbols fall into a special category. The Gold sign (also known as the Wild), the TNT bomb, gold in a cart and the drill are the special symbols.
Special Features of Goldstruck Blasts
Some of the special features players should watch out for in Goldstruck Blasts Slot include:
Wild Train Feature
The Wild Train Feature is activated when three of the special feature icons appear alongside the gold or TNT bomb symbols. Here, the symbols will overlap and be collected. The more gold symbols you find, the more ground you'll cover. Also, the value of the scatter pays increases the more rare symbols you have. In addition, the number of special symbols you have collected will determine the size of the multiplier you receive.
5 symbols = 2x
9 symbols = 3x
13 symbols = 5x
17 symbols = 10x
21 symbols = 21x
Free Games Bonus
When you get 9 or more gold symbols, you'll trigger the Free Games Bonus and receive 5 free games. In addition, if you manage to gather more Gold and TNT bomb symbols, you will be awarded an extra free spin.
Jackpot
By the end of the Free Games feature, you will receive a jackpot worth 5,000x your stake if you have collected 21 or more Gold symbols during the Free Games Bonus and Wild Train Feature.
Is Goldstruck Blasts a Good Slot?
Goldstruck Blasts is a real-money slot with an incredible aesthetic, a plethora of novel and entertaining bonus features and a jackpot. Check it out for yourself to see if you can be lucky like other players who have loved this slot game and its features.
The ultimate reward for playing Goldstruck Blasts is that you can win as much as 5,769 times your bet. While the potential payout isn't big, the video slot does include a number of nice extra features. You can try this game out as well as other High 5 Games on FanDuel.
---
Please note: Some FanDuel Casino games may not yet be available in your state, or on your preferred app. Please check your iOS/Android app and visit casino.fanduel.com or fanduel.com/casino for announcements about the latest casino games available.