New Casino Games Spotlight: Divine Stars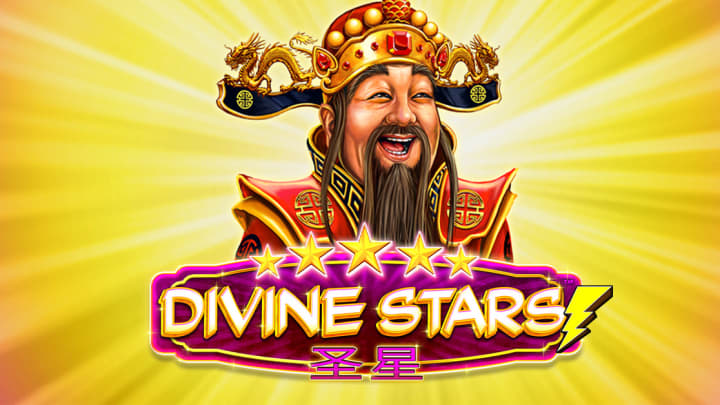 Divine Stars is an online casino real money slot game set on a traditional Chinese setting. Divine Stars has 5 reels, 3 rows, and a total of 25 different pay lines. It is a slot machine with a maximum win that can pay out up to 5,000x of your initial wager. Features like Wild Symbol, the Hold 'n' Spin, the Divine Pick Bonus, and Free Spins are waiting for you in this game. Play Divine Stars at an online casino for real money.
How to Play Divine Stars Online Slot
Although there is nothing particularly difficult about playing this slot, it's still a good idea to have some helpful hints. To begin, select the coin stack option to adjust the total amount wagered for each spin. When you click on the gear icon, the settings menu for this particular selection of video slots will open. You'll find the buttons for adjusting the music and sounds in this section.
The paytable can be accessed by using the "i" button. The paytable does not dynamically update itself, and wins are calculated based on the stake multipliers. The button that looks like three bars provides players with an additional access point to the slot game's controls and information. You will notice a sub-menu emerge at the bottom of your screen.
Divine Stars Slot Visuals and Sounds
Divine Stars takes place in a traditional Chinese environment. The huge reels are surrounded by a golden frame and take up a significant portion of the screen. They are brought to the top of the steps leading up to a crimson house. There are decorations in the form of dragons atop the reels, and large red bulbs are hung along their sides. 
These ideas are reflected in the symbols, which include Chinese lanterns, lucky red characters, and old money. The action takes place inside a bright red pagoda, which has golden flooring below the reels. This is accompanied by a soothing East Asian soundtrack in the background.
Special Features of Divine Stars
The online casino real money game has some special features embedded for more fun. See the details about the features below:
Wild Symbol
The Wild Symbol depicts an elderly Chinese man with a long beard, a mustache, and a smile on his face. It can stand in for any other symbol and can appear in any position on reels 2, 3, and 4.
Scatter Symbol 
The Divine Scatter Star is golden in color, and it has the word "bonus" across its surface. They must appear on lines adjacent to one another, starting from the reel on the leftmost position. However, the feature can still be activated even if the symbols are not located on a pay line. The Scatter Symbol is exclusive to the base game.
Hold 'n Spin
If you get two, three, or four scatter symbols on reels that are adjacent to one another, the Hold n' Spin feature will activate. The spins on the other reels are repeated three times while the ones that feature scatter symbols remain stationary.
Divine Pick Bonus
The player will initially be shown seven stars, each of which can award five, six, eight, or ten free spins. A star will be selected at random. The player will have the option of either keeping it or trading it in for another star. This will likewise be selected at random from the pool of available stars.  
Free Spins
The free spins and multipliers awarded after the Divine Pick Bonus will be used for the free spins. The multiplier will increase the value of each victory by the same amount. It is not possible to retrigger spins while you are participating in this feature in the online slots for real money.
Is Divine Stars a Good Online Casino Slot?
Lightning Box's Divine Stars is a fairly standard example of a typical online slot game. It continues the company's recent trend of concentrating on Asian topics and it does a good job of doing so in most ways. Indeed, playing Divine Stars is worth your time. Enjoy a slot with an Asian theme, huge rewards, and the best bonus games online when you play Divine Stars on FanDuel Casino.
---
Please note: Some FanDuel casino games may not yet be available in your state, or on your preferred app. Please check your iOS/Android app and visit casino.fanduel.com or fanduel.com/casino for announcements about the latest casino games available.