New Casino Games Spotlight: Big Bonus Slot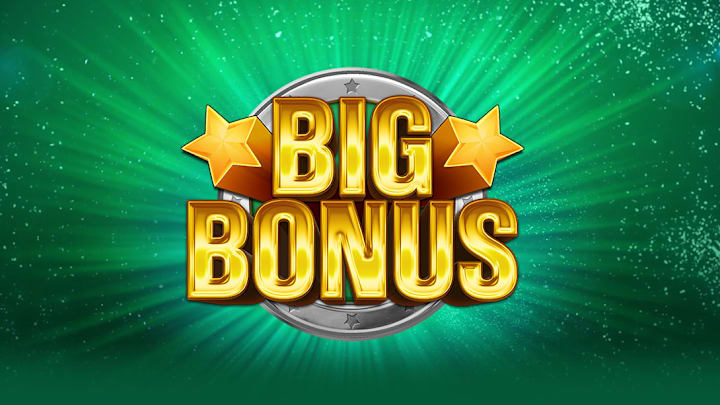 If you're looking for a fruit-themed online real money slot, then the Big Bonus slot is for you. This game was developed by Inspired Gaming and is a re-enactment of the traditional classic slot. Big Bonus slot comes in a 6-by-4 reel layout and has an RTP of 95.61%. 
If you're lucky to land any of the paying symbols on the reels, you get a payout. Big Bonus, like most fruit-themed slots, is easy to play. However, Inspired Gaming gave it a little twist, making it different from the usual slot machines.
In this review, we will be looking at the features that make the Big Bonus slot stand out.
How to Play Big Bonus Slot 
As we mentioned earlier, Big Bonus is easy to play, and we'll show you how the game works.
When you launch the game on FanDuel, you'll see a number of controls. You can start with the game info button, which will show you the game's guidelines. Then you can click on the back arrow at the upper right corner of your screen to set your wager. The Big Bonus slot allows players to wager between 20¢ and $20. You can click on the menu button to adjust the controls. 
This Inspired Gaming slot machine has an autoplay option, and you can check your balance there as well. The menu also shows you the history of your winnings. If you use the autoplay feature, you can set the game to spin up to 100 times in a row.
Since the Big Bonus slot has an RTP of 95.61%, one will consider it below the average slot RTP, which is normally between 96% and 97%.
Big Bonus Slot Visuals and Sounds
As expected with fruit slot machines, Big Bonus features a lot of the standard symbols. However, you'll love the game's aesthetics, especially its smooth animation during each win.  Big Bonus is a very attractive slot machine and shows Inspired Gaming put a lot of work into it.
The user experience is above par, and you'll appreciate the game's intuitive design. However, unlike most slot machines, Big Bonus doesn't really have a soundtrack playing. Instead, you'll hear occasional sounds coming from the game each time you make a winning combination. Still, you can turn off these sounds in the control section if you don't want it.
Special Features of Big Bonus Slot
As with most classic real money slot machines, Big Bonus slot doesn't come with many features. Instead, you'll find a good number of paying symbols in the game. The paytable shows how much the symbols pay. In Big Bonus, you'll find 6 symbols; the Crown, Red Number 7, Blue/White Number 7, Watermelon, Grapes, Cherries, Lemons, Oranges and Blueberries.
Big Bonus Win Value
The Big Bonus win value is the only special feature of this slot machine. You'll get a special bonus round where you can claim lots of free spins and multipliers. If you're lucky, you can get up to 100x in multiplier wins. To activate this feature, you need to land at least 3 or more Scatters on the reels. This will activate the Big Bonus feature. 
In this bonus round, you will get an endless number of free spins and sticky Wilds. Until the end of the bonus game, each Wild symbol you get will stay in place, giving you the opportunity to land more winning combinations. You can keep using all the free spins until you have exhausted the Big Bonus value.
Is Big Bonus a Good Slot?
Overall, we thought Big Bonus was an intriguing twist on traditional fruit machines. If you're looking for a game that doesn't come with too many confusing features, you'll love Big Bonus slot.
Like many of Inspired Gaming slot machines, Big Bonus boasts an impressive design and gameplay. The graphics are high quality, and the payouts are quite decent. We recommend a Big Bonus slot for newbies and most players on a budget.
If you're a high roller, you won't expect to get a big payout from the Big Bonus slot. However, the bonus feature can certainly surprise players with payouts as large as 100x your stake.
If you think this game is for you, you should try Big Bonus right away. It promises to be a timeless experience and very entertaining.
Luckily, you can play Big Bonus slot at FanDuel Casino along with other Inspired Gaming online casino games.
..
Please note: Some FanDuel Casino games may not yet be available in your state, or on your preferred app. Please check your iOS/Android app and visit casino.fanduel.com or fanduel.com/casino for announcements about the latest casino games available.