Future NBA All-Star Game Locations by Year After 2023 in Utah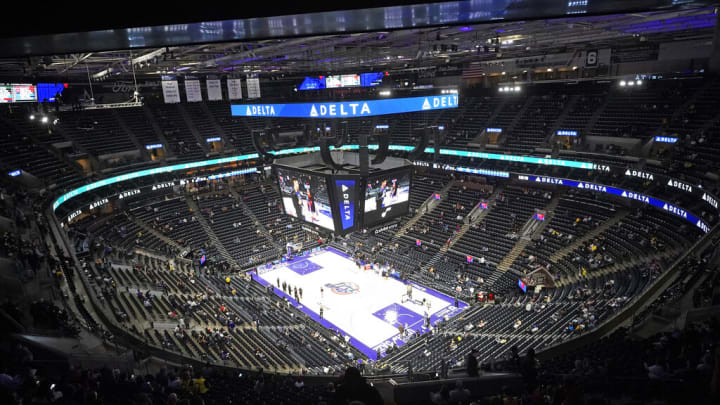 Future NBA All-Star Game locations by year after the 2023 event in Utah. / ASSOCIATED PRESS
Basketball fans are getting hyped for the 2023 NBA All-Star Game this weekend, which will pit Team Giannis versus Team LeBron in a showcase for the NBA's biggest drawing cards. With so much star power on both sides, this game is a cant-miss event for people who follow The Association.
While this year's festivities will be held at Vivint Arena in Salt Lake City, Utah, the location for next year's All-Star weekend has already been decided as well.
Future NBA All-Star Game Locations
Here's everything you need to know about future locations for the NBA All-Star Game.
Future NBA All-Star Games Locations and Dates
2024 NBA All-Star Game: Gainbridge Fieldhouse, Indianapolis, IN — February 18, 2024
Vivint Arena is hosting the All-Star Game this season for the second time overall and first time since 1993, when the West outlasted the East in a 135-132 overtime thriller. Looking ahead, Indianapolis is set to host the event for the second time next year and the first time since 1985.
The 2024 NBA All-Star Game is currently scheduled for Sunday, Feb. 18. The game typically takes place on the third Sunday of February so that it's a week after the Super Bowl and also overlaps with Presidents' Day Weekend.
The location of the 2025 event has yet to be determined, but it could be in Phoenix as the Suns have already submitted a bid to host.
What City Has Hosted the Most NBA All-Star Games?
New York City (5)
Boston (4)
Los Angeles (4)
Philadelphia (4)
New York City has hosted the NBA All-Star Game a record five times, most recently in 2015. Boston, Los Angeles and Philadelphia are all tied for second at four times apiece. Boston has not hosted since 1964 but is reportedly considering placing a bid to host in 2026, while LA and Philly last hosted in 2018 and 2002, respectively.