Every Heisman Trophy-Winning Quarterback That Went No. 1 in the NFL Draft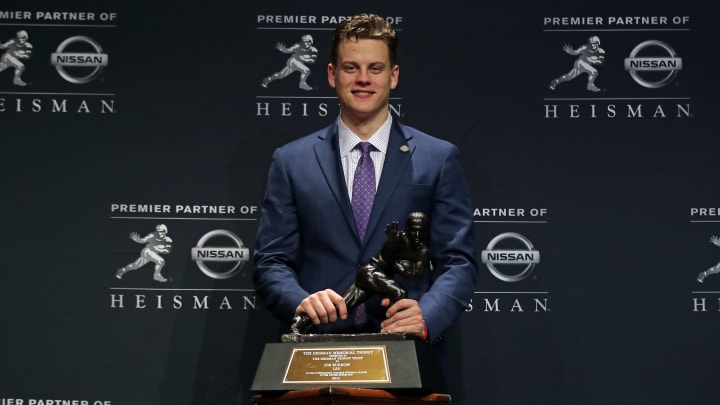 LSU quarterback Joe Burrow poses for a photo after winning the 2019 Heisman Trophy. / Adam Hunger/Getty Images
From being rejected by Nebraska to winning the 2019 Heisman Trophy, LSU quarterback Joe Burrow joins the list of players who were once doubted, but went on to prove the masses wrong.
Now, the latest Heisman winner has a chance to earn even more respect, with an opportunity to compete for a national championship. Whether the LSU Tigers win the National Championship or not, an impressive performance by Burrow in the 2020 College Football Playoff will likely further boost his NFL Draft stock for next April.
Burrow is already the heavy betting favorite to be selected No. 1 overall in the 2020 NFL Draft at -200 odds, according to FanDuel Sportsbook. And going first in the upcoming draft would put Burrow on an even more prestigious list of Heisman-winning quarterbacks to be selected No. 1 overall in the NFL Draft.
1.

Kyler Murray, Oklahoma Sooners (2017-18)

Kyler Murray Heisman Year: 2018
Year Drafted: 2019
NFL Team: Arizona Cardinals
2.

Baker Mayfield, Oklahoma Sooners (2015-17)

Baker Mayfield Heisman Year: 2017
Year Drafted: 2018
NFL Team: Cleveland Browns
3.

Jameis Winston, Florida State Seminoles (2012-14)

Jameis Winston Heisman Year: 2013
Year Drafted: 2015
NFL Team: Tampa Bay Buccaneers
4.

Cam Newton, Auburn Tigers (2010)

Cam Newton Heisman Year: 2010
Year Drafted: 2011
NFL Team: Carolina Panthers
5.

Sam Bradford, Oklahoma Sooners (2007-09)

Sam Bradford Heisman Year: 2008
Year Drafted: 2010
NFL Team: St. Louis Rams (now Los Angeles Rams)
6.

Carson Palmer, USC Trojans (1998-2002)

Carson Palmer Heisman Year: 2002
Year Drafted: 2003
NFL Team: Cincinnati Bengals
7.

Vinny Testaverde, Miami Hurricanes (1982-86)

Vinny Testaverde Heisman Year: 1986
Year Drafted: 1987
NFL Team: Tampa Bay Buccaneers
8.

Jim Plunkett, Stanford Cardinal (1967-70)

Jim Plunkett Heisman Year: 1970
Year Drafted: 1971
NFL Team: New England Patriots
9.

Terry Baker, Oregon State Beavers (1959-62)

Terry Baker Heisman Year: 1962
Year Drafted: 1963
NFL Team: Los Angeles Rams
10.

Angelo Bertelli, Notre Dame Fighting Irish (1940-43)

Angelo Bertelli Heisman Year: 1943
Year Drafted: 1944
NFL Team: Drafted by Boston the Yanks (Joined the NFL with the Los Angeles Dons in 1946 after completing active duty service with the United States Marine Corps)
---
Join FanDuel Sportsbook Today. New users get a risk-free bet up to $500. Join Now.