Brian Snitker Gives Brutally Honest Review of Dylan Dodd's Second Start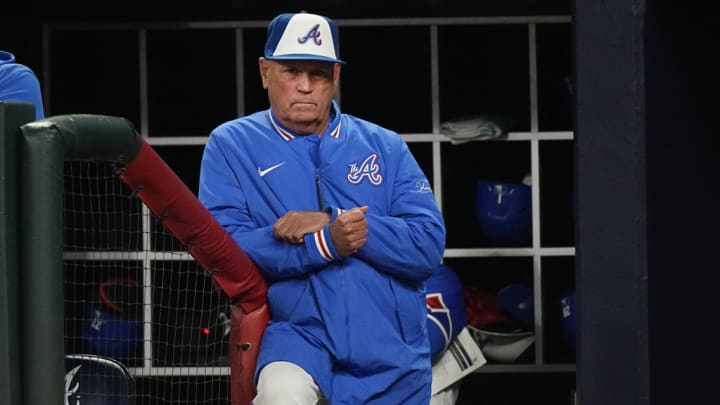 Atlanta Braves manager Brian Snitker didn't hold back after Dylan Dodd's poor performance. / ASSOCIATED PRESS
The highly anticipated Sunday Night Baseball matchup between the Atlanta Braves and San Diego Padres on April 9 turned out to be a bit of a snoozefest. The Padres scored early and often en route to a 10-2 victory, dominating the potential NL playoff preview.
After the game, Braves manager Brian Snitker didn't mince words when discussing Dylan Dodd's underwhelming performance for Atlanta.
Dylan Dodd Braves
Sunday was Dodd's second career start in the big leagues, and it didn't go nearly as well as his first. He was roughed up for 7 runs (all earned) on 10 hits -- including 2 home runs -- in 4 1/3 innings against San Diego, taking his first career loss in the process.
Snitker lamented that Dodd's slider wasn't as effective as it was during his season debut on April 4, when he held the St. Louis Cardinals to 1 run on 6 hits over 5 innings for the win. The manager emphasized that Sunday's poor outing was a learning experience for Dodd, who needs to turn to other pitches when his slider isn't sharp.
It also didn't help that Dodd was facing a star-studded Padres lineup. An offense with Xander Bogaerts, Juan Soto, Manny Machado, and Nelson Cruz is a gauntlet for any pitcher, as those hitters are all capable of punishing mistakes.
MLB has a steep learning curve, and nearly all rookies go through growing pains at some point. Dodd is just 24 and only two years out of college, so he's still young and has a lot to learn. Sunday's game proved that some lessons have to be learned the hard way.