Best 2023 Kentucky Derby Betting Bonus and Promos on FanDuel Sportsbook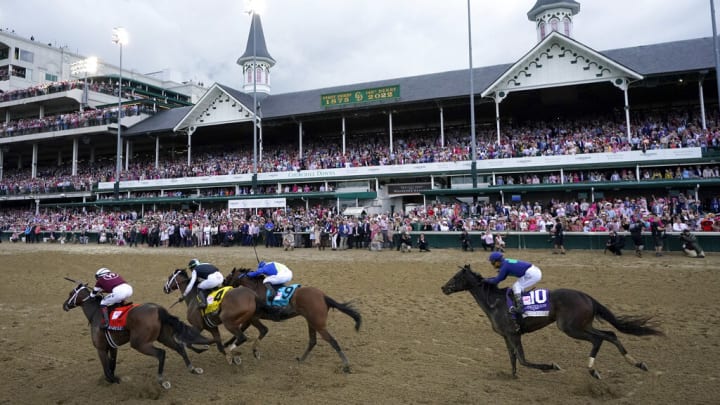 Best 2023 Kentucky Derby bonuses and promos on FanDuel Sportsbook. / (AP Photo/Jeff Roberson, File)
The Kentucky Derby is the pinnacle of equine competition and an illustrious celebration of sportsmanship. As the first Saturday of May dawns, immerse yourself in this timeless tradition known as the "Run for the Roses." Savor the electric atmosphere as the world's finest three-year-old thoroughbreds vie for the ultimate honor, galloping down the storied track at Churchill Downs. 
Prepare for a heart-pounding, two-minute thrill ride that captivates millions, all while indulging in the magic and exhilaration of a truly unforgettable spectacle. With a strong lineup of 20 top Kentucky Derby contenders, there are multiple angles bettors can choose to get in on the action. You may have an exacta, trifecta or superfecta to get a bigger payout on the big favorites. Either way, FanDuel Racing and TVG have excellent promos and bonuses to help you squeeze out some extra value.
FanDuel Racing Bet $20 No Sweat Bet for the Kentucky Derby
Our premier promo for the Kentucky Derby is FanDuel Racing's Bet $20, Win up to $20 Back. This promotion kicks off May 1, 2023, at 9 a.m. ET and concludes May 6, 2023, at 8 p.m. ET. 
FanDuel is the only Sportsbook app where you can bet on the Kentucky Derby! Get up to $20 back if your Derby bet doesn't win. If you're looking for bet ideas, check out the latest 2023 Kentucky Derby odds.
This promotion applies to states where users have access to both FanDuel Sportsbook App and the FanDuel Racing app (Integrated): CO, IL, IN, LA, MD, MA, MI, NY, OH, PA, VA, WV, WY, as well as FanDuel Sportsbook (standalone) app: AR, CA, DE, FL, KY, NH, NM, ND, OR, RI, SD, VT
TVG New Customer Offer Get up to $200 Back for the Kentucky Derby
This TVG offer is available to all new users who have yet to register for an account with TVG. All eligible users must be at least 18 years of age or older (21+ in AZ, IN, IA, ND, WA) and present in one of the states that TVG operates in if they wish to place any legal wagers.
TVG is currently available in 33 different states, including:
AZ, AR, CA, CO, CT, DE, FL, ID, IL, IN, IA, KY, LA, MD, MA, MI, MN, MT, NH, NJ (4NJBets), NM, NY, ND, OH, OR, PA, RI, SD, VT, VA, WA, WV and WY.
Simply register, make your first deposit, and place your first wager within fifteen (15) days of account creation in order to qualify. Only single-horse wagers will be considered eligible for this promotion, meaning no exotics. If the bet doesn't go your way, TVG will reimburse 100% of your initial stake up to $200 in the form of a Promotion Bonus.