2023 Kentucky Derby Week Stakes Schedule at Churchill Downs on FanDuel Racing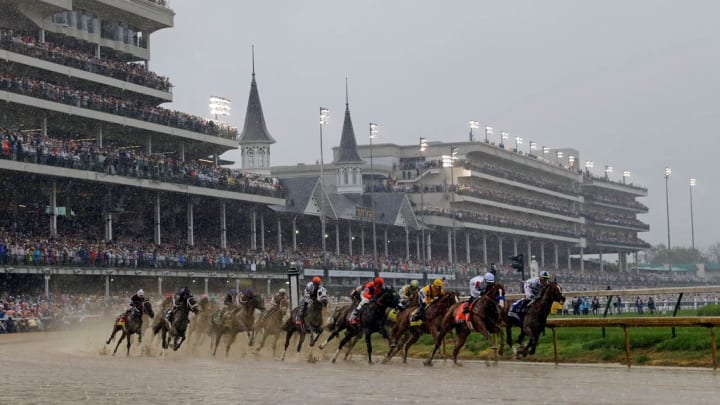 Churchill Downs Spring Meet 2023 Kentucky Derby Week Stakes Schedule. / Derron Cummings / Associated Press
The Churchill Downs Spring Meet opens Saturday, April 29 and kicks off a full week of racing leading to the May 6 Kentucky Derby. And with the biggest event on the May schedule, mobile betting on horse racing could set records with more states providing fans easy access to bet on the horses and the biggest races during the Triple Crown season.
Churchill Downs Spring Meet Racing Schedule
The Spring Meet will run through July 3, with racing held Thursdays-Sundays in May, plus Memorial Day (Monday, May 29). In June and July, racing is Wednesdays-Sundays. Twilight racing is Thursdays with first post at 5 p.m. after Derby week. On Wednesdays, plus Friday through Sunday, first post is 12:45 p.m.
Kentucky Derby Week Stakes Races
Opening Night, Saturday, April 29 (First post 6 p.m. ET)
- $175,000 Roxelana Overnight Stakes

Wednesday, May 3
- $225,000 Mamzelle (Listed)
- $175,000 Isaac Murphy Marathon Overnight Stakes

Thursday, May 4
- $200,000 Kentucky Juvenile
- $300,000 Opening Verse (Listed)
- $175,000 St. Matthews Overnight Stakes

Friday, May 5: Kentucky Oaks Day
- $1.25 million Longines Kentucky Oaks (G1)
- $750,000 La Troienne (GI)
- $600,000 Alysheba presented by Sentient Jet (GII)
- $500,000 Eight Belles (GII)
- $500,000 Edgewood presented by Forcht Bank (GII)
- $300,000 Modesty (GIII)
- $300,000 Unbridled Sidney presented by Sysco (Listed).
Saturday, May 6
- $3 million Kentucky Derby (G1)
- $1 million Old Forester Bourbon Turf Classic (GI)
- $750,000 Churchill Downs presented by Ford (G1)
- $750,000 Derby City Distaff presented by Kendall-Jackson Winery (GI)
- $500,000 Longines Churchill Distaff Turf Mile (GII)
- $500,000 Pat Day Mile (GII)
- $500,000 American Turf (GII)
- $500,000 Twin Spires Turf Sprint (GII)
- $175,000 Knicks Go Overnight Stakes

The full 2023 Spring Meet stakes schedule at Churchill Downs includes 50 stakes races worth more than $20 million.

FanDuel Racing has you covered for the biggest racing days and events. You can watch and wager on FanDuelTV+ during Derby Week. FanDuel TV will also be on-site at Churchill Downs providing comprehensive coverage, including the latest news, analysis, and handicapping insights in the days leading up to the Derby.

Game odds refresh periodically and are subject to change.