VIDEO: Remembering When Trent Dilfer Hit Shannon Sharpe for the Longest Touchdown in Ravens History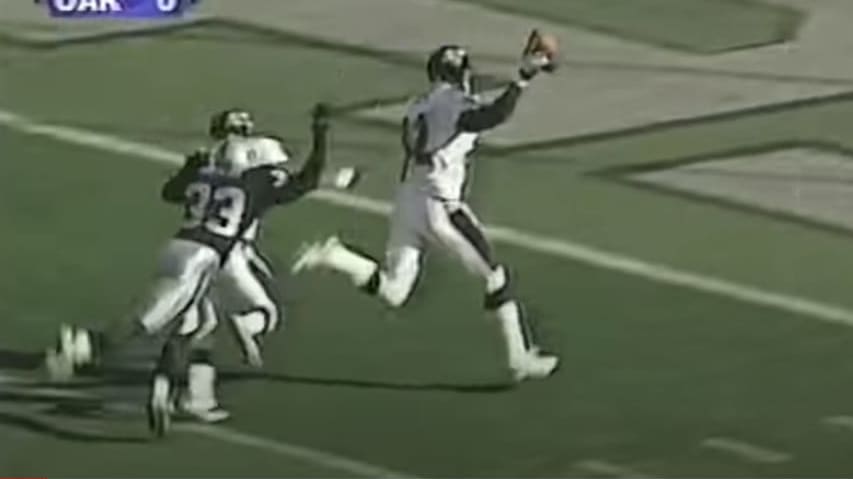 Updated:
The Baltimore Ravens have been an incredibly successful franchise, often highlighted by a stout defense. It has been the defense that has led the team to Super Bowl wins, especially when Trent Dilfer was at quarterback in 2000.
However, Dilfer did throw the longest touchdown pass in Ravens history, which is a record that still stands today.
Backed up on his four-yard line, Dilfer needed to get the ball out quick, mostly hoping to buy a little extra space for their punter. The Ravens quarterback found tight end Shannon Sharpe across the middle, and then the Hall-of-Famer turned the play into much, much more.
As one of the most athletic tight ends in NFL history, Sharpe turned on the second gear and turned a footrace into points. The result was a 96-yard catch-and-run for Sharpe, which is the longest offensive touchdown in team history. This was an especially crucial touchdown, as it got the Ravens out to a 7-0 lead in the AFC Championship, setting them up for their eventual Super Bowl win.
It was on theme for Dilfer that his teammate brought him to this record. All he did was throw a short slant. In his only season with the team, Dilfer completed 59.3 percent of his passes for 1,502 yards and 12 touchdowns to 11 interceptions. Yet, he won a Super Bowl, leaving him among the worst starting quarterbacks to ever win the Lombardi Trophy.
Sign up for FanDuel Sportsbook today and get your first bet risk free for up to $500!