VIDEO: Remembering When Denzel Ward Flipped a Maryland Wide Receiver With This Huge Hit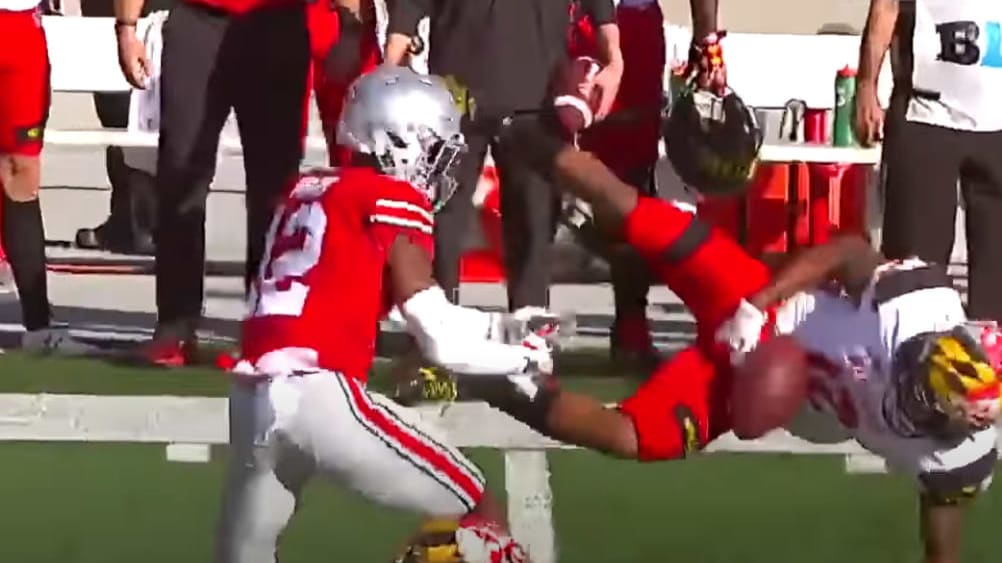 Updated:
You may know Denzel Ward as a lockdown defender for the Cleveland Browns, winning one-on-one matchups against wide receivers every week. However, he was imposing his will on receivers long before his days in Cleveland.
Take a look below, laying a hit on Maryland Terrapins' Tavion Jacobs who probably still feels the effects of that hit today.
Which is better — the devastating hit or Gus Johnson's call of the play?
Ward looked like a brick house on the play. Playing much larger than his then-191-pound listed weight, Ward ran through the receiver, flipping him and knocking the ball out. It's rare to find cornerbacks that are willing to get physical. It becomes even harder to find a willing corner to get physical to this degree.
His combination of ball skills and ability to make tackles in the open field is the reason he stayed in state and went No. 4 overall to the Browns.
Now, the Johnson call, which is just perfect. "You got barbecue back there and you didn't invite me? Hurt. My. Feelings."
There's nothing quite like college football. Massive hits with an electric crowd of fans, students and alumni, combined with amazing calls like Johnson's make college football absolutely magical and unlike any other sport. This is including professional football, where we'd have Joe Buck say "brought down by Ward," while the ref threw a flag to discuss for a few minutes.
Sign up for FanDuel Sportsbook today and get your first bet risk free for up to $500!