VIDEO: Bryce Harper Makes NSFW World Series Promise to Phillies Fans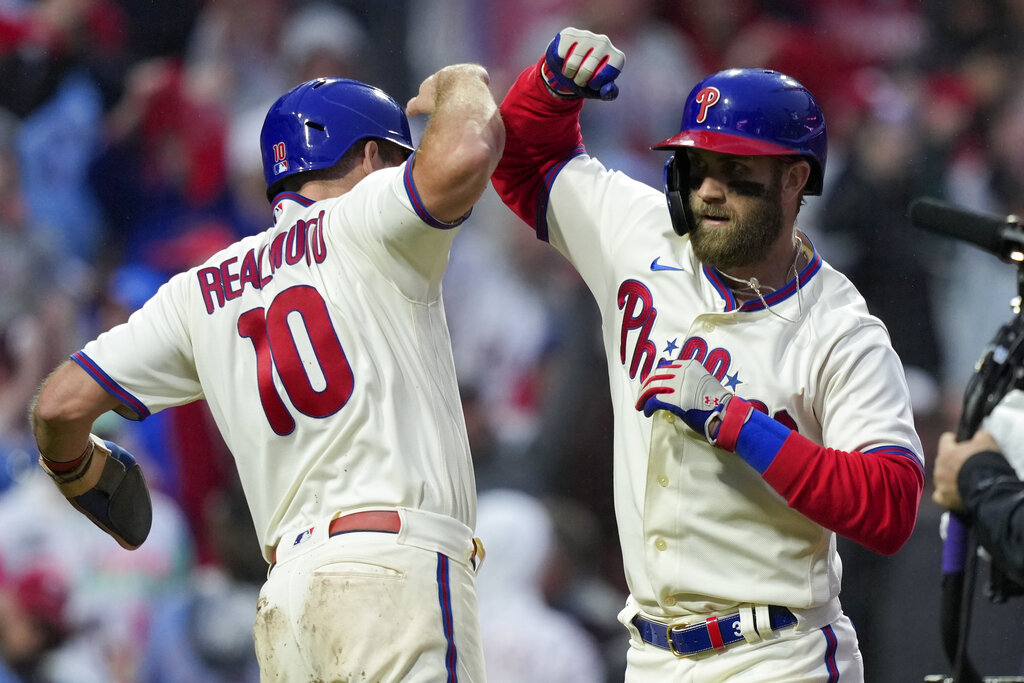 Updated:
Bryce Harper propelled the Philadelphia Phillies to victory in Game 5 of the NLCS on Sunday with his go-ahead home run in the bottom of the eighth inning. The Phillies held on to beat the San Diego Padres, 4-3, punching their ticket to the World Series for the first time since 2009.
After the game, Harper made a NSFW promise to the fired-up crowd at Citizens Bank Park.
Bryce Harper NSFW Quote
After winning NLCS MVP honors, Harper took the stage and gave a brief celebratory speech. At the end of his remarks, he used some salty language to promise Philadelphia fans a World Series title, saying, "We got four more (games). We're gonna bring this s--- home boys, let's go!"
The Phillies haven't won a championship since 2008 and were barely expected to make the playoffs this season. After a strong second half and an incredible postseason run, they now find themselves four wins away from glory.
Now in his 11th MLB season, Harper is obviously excited to play in his first World Series. He's never won a championship before, enduring multiple heartbreaking postseasons with the Washington Nationals earlier in his career. The Nationals promptly won it all in 2019, the first year after he signed a massive contract with Philadelphia.
The Phillies will have to wait to find out who they're playing in the Fall Classic, as the ALCS has yet to be decided. It will likely be the Houston Astros, however, as the Astros currently hold a 3-0 series lead over the New York Yankees. As of this writing, Philadelphia has +150 odds of winning the World Series on FanDuel Sportsbook's MLB odds.
Game odds refresh periodically and are subject to change.