Texas vs. Texas Tech Injury Report: Which Team Has the Injury Advantage?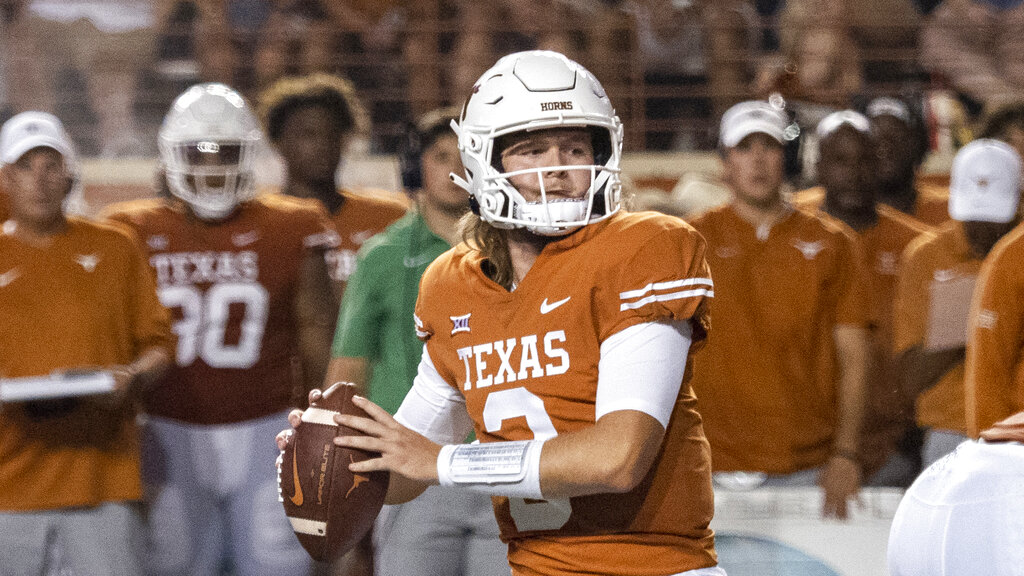 Updated:
Texas Injury Report
After a big hit against the University of Alabama, Texas Longhorns quarterback Quinn Ewers is projected to be out in the team's rivalry game against Texas Tech. According to Pete Thamel, he suffered a SC sprain, the hinge connecting the clavicle and sternum. The timeline given by ESPN was 6-8 weeks.
But, according to our Pro Football Docs, his recovery could be 2-3 weeks based on how quickly his pain dissipates. According to Thamel, Ewers is in "significant pain," and "basic acts such as breathing and swallowing" are exacerbating the pain.
Before the injury to Ewer's shoulder, he was dicing up one of the best defenses in the country. He was 9-of-12 passing for 134 yards, a 96.3 QBR. His backup Hudson Card kept things close in Ewers' absence, but there was a clear drop-off in quarterback play as Card threw for less than 200 yards and had a QBR of less than 56. The Longhorns relied on their running game to keep up, totaling almost 300 yards, and 8.3 yards per carry.
Texas Tech Injury Report
Bryce Ramirez suffered a catastrophic knee injury during the Red Raiders' last game. The video of the injury is gruesome and heartbreaking. Ramirez fractured his lower left leg and had two surgeries on the leg. He has been hospitalized for a couple of days. Texas Tech is paying for his return to Lubbock, TX, since the injury was suffered on the road.
Ramirez was a key special team player and was one of four Texas Tech players awarded scholarships before the season.
Starting quarterback Tyler Shough went down with a left shoulder injury in the team's opening game. By video, Shough likely suffered an AC joint sprain with an avulsion fracture at the end of the clavicle, according to our College Football Docs.
Before the injury, Shough was 6-of-10 passing for 154 yards and a 94.6 QBR. Since then, backup quarterback Donovan Smith has led the Red Raiders to a 2-1 record. He's thrown for 785 yards, seven touchdown passes, and five interceptions. His QBR is 30.5, which ranks 110th in the nation. For the Red Raiders to have a chance, they will need Smith to play significantly better.
Texas vs. Texas Tech Week 4 Odds
If Ewers were the quarterback in this game, the line would be pushing 10 points, if not more than 10. Since he's projected to be out, the line is only 6.5 points, according to FanDuel Sportsbook. So, if you believe Texas has a significantly better roster than the Red Raiders, this line could provide some value. Sports Injury Central's SIC pick for the game can be accessed by signing up here.
Sports Injury Central is the home of Pro Football Doc – the FanDuel Official Injury Expert – and a leading panel of former team physicians from the NFL, NBA, and MLB. The team analyzes injuries to give fans an edge with their wagering and fantasy sports activities.