Super Bowl Sunday 2023: Date, Time, Location and Halftime Show Info for Super Bowl LVII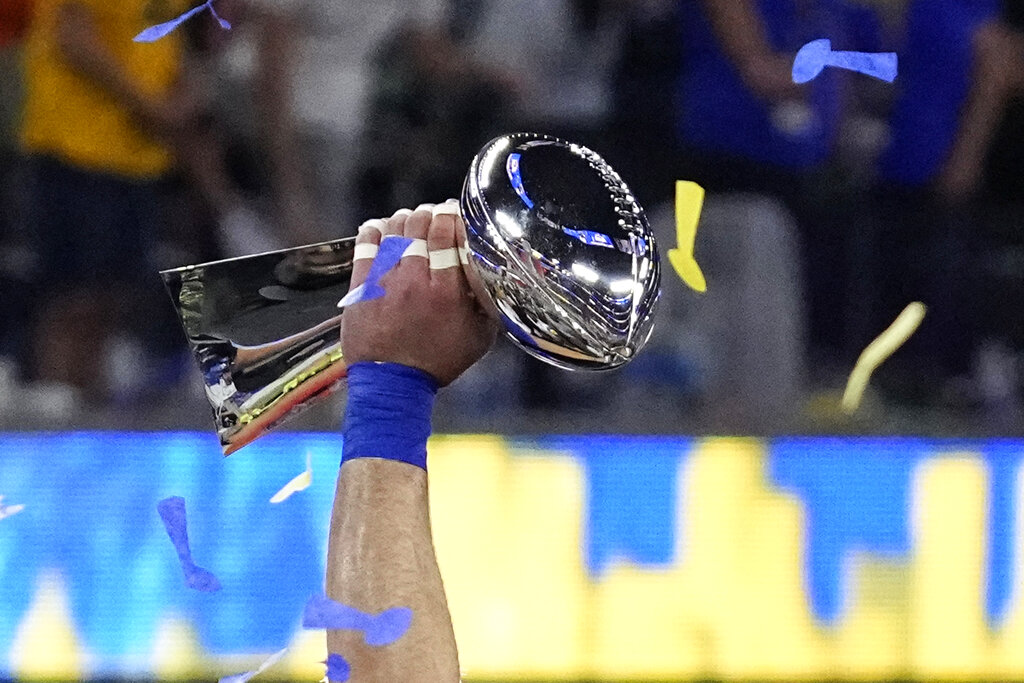 Updated:
The NFL Playoffs kick off this weekend, and the Super Bowl is just one month away. Sports fans around the world are excited to see who will take home the Lombardi Trophy on Super Bowl Sunday in February.
Here's everything you need to know about Super Bowl Sunday 2023.
Super Bowl Sunday 2023 Date, Kickoff Time & Schedule
This year's Super Bowl Sunday will take place on Feb. 12, 2023, with the Super Bowl itself set for a kickoff time of 6:30 p.m. ET.
Of course, the big game isn't the only thing going on that day.
The official Super Bowl broadcast will begin at 6:00 p.m., with the singing of America the Beautiful and the national anthem as well as the coin toss ceremony taking place prior to 6:30.
Super Bowl Sunday 2023 TV Channel, Broadcast Team & Streaming
The 2023 Super Bowl is airing on FOX. The bradcast team for the game will be Kevin Burkhardt on play-by-play with Greg Olsen as the color commentator. Mike Pereira will join the two in the booth as the rules expert, while Erin Andrews and Tom Rinaldi will handle sideline reporting duties.
Fans looking to stream the game live rather than watching on TV will be able to find the broadcast on FuboTV.
Television broadcast rights for the Super Bowl are rotated between FOX, CBS, NBC and ABC, but FOX will only take one year off between broadcasts, as CBS will get LVIII while it's back on FOX for Super Bowl LIX.
Where is the Super Bowl This Year?
Super Bowl LVII will be held at State Farm Stadium in Glendale, AZ.
This will be the third time in the stadium's 17-year history that the Super Bowl will be played there. State Farm Stadium also hosted the big game in 2008 and 2015.
The locations for the next two Super Bowls have already been announced as well. The Las Vegas Raiders' Allegiant Stadium will host Super Bowl LVIII and the Saints' Caesars Superdome will host Super Bowl LIX.
Super Bowl LVII Teams
This space will be updated when the teams for Super Bowl Sunday 2023 are set.
The current favorites to play in Super Bowl LVII are the Kansas City Chiefs (+165 to win the AFC) and the Philadelphia Eagles (+160 to win the NFC), according to NFL odds from FanDuel Sportsbook.
Super Bowl Sunday 2023 Halftime Show
This year's Super Bowl features a halftime performance headlined by Rihanna.
Rihanna has been a rumored Super Bowl halftime show performer for years, but now it's official and she will follow 2022's all-star lineup that included Dr. Dre, Snoop Dogg, Eminem and Mary J. Blige.