Stampede - FanDuel Casino Review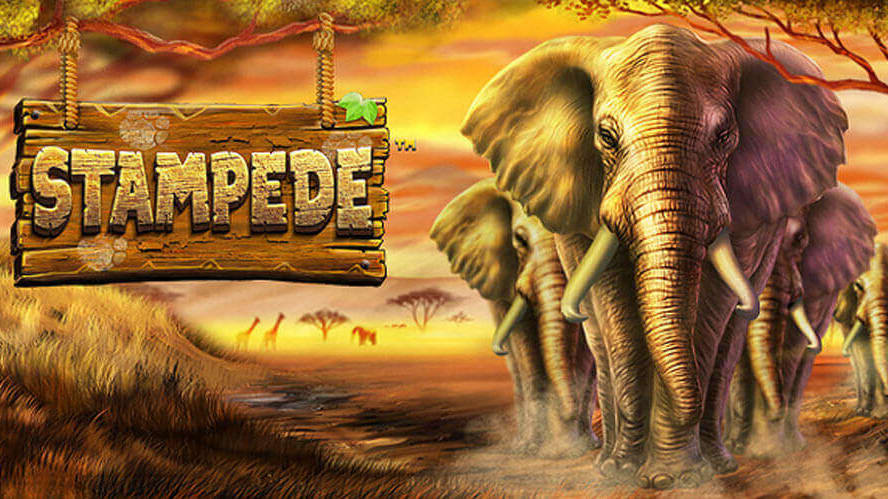 Updated:
Feel the thrill of Savannah Africa and enjoy an unforgettable virtual vacation with one of Betsoft's classic online slot games, Stampede. This game perfectly displays the beauty and diversity of nature in Africa and is ideal for lovers of animal-themed slots.
There are five reels on a 4 x 5 layout, and winning combinations are formed left to right and vice-versa. This slot, fitted with a 95.3% RTP, can be enjoyed on a computer or any mobile device.
How to Play Stampede Online Casino Slot
Set your desired wager and paylines first to begin an adventure on Stampede. At the side of the reels is a "Choose Coin" icon that allows you to select your bet amount. Coin sizes range between $0.02 to $1. The higher your coin size, the higher your average bet per spin.
Click the "Spin" button to set the reels into motion. If you're feeling pretty lucky and want to go all-in, the "Max Bet" button is your answer. It sets the largest bet and puts the reels into motion automatically. There's also the "Double Up" feature, which will put the game in the gamble mode for a chance to win bonuses.
The regular "Autoplay" button is also available. You can select the number of spins you desire, up to a maximum of 100. At the top part of the screen is the pay table which shows what symbols offer huge payouts and how to trigger the free spins feature. Symbols on the reels are leopards, cheetahs, zebras, gazelles, eagles, cards (10 through ace), wilds (wooden pallet), scatters (trees), and elephants. The wild symbol appears on three reels and can replace all other symbols except the scatter.
Stampede Online Slot Visuals and Sounds
Stampede online casino slot uses Betsoft's custom cinematic technology, the results of which are graphics that are simply stunning. The background is a beautiful sunset view of the savannah, dotted with acacia trees and giraffes and mountain plains far away.
Once you start playing, a soft sound of hummingbirds and whistling winds welcome you. To complete that vacation feel, you're treated to a lovely piece of African tribal music as you spin.
What Bonus Features Will I Find on Stampede Online Casino Slot
The fun and excitement don't end with the rush of Elephants. There are more bonus rounds to enjoy in this slot.
Free Spins
Get free spins when you land 3-5 scatter symbols at any position on the reels. The number of symbols determines the number of free spins you get. These free spins come attached to the default 2-20x winnings that come with a scatter.
Three scatters means eight free spins + 80 coins extra
Four scatters equal 12 free spins + 400 coins
Five scatters equal 20 free spins + 800 coins
Wilds
This is the best bonus feature of this slot, thanks to its massive win potential. Although wilds can't substitute for the scatter symbols, they contribute to free spins. In the free spins mode, wilds reward the player with a multiplier of 2x or 3x. Three wild symbols give you a multiplier of 3x, meaning you can get 27x your initial winnings. Wilds only appear on reels 2, 3, and 4.
Step up your winnings with the genius Double Up feature
With this feature, you can double your wins and fill up your pocket faster. It's a gamble mode where you play a coin toss between head and tail. Stake half of all your winnings and guess whether the coin will land in your favor.
If your prediction comes true, you can toss again or click on "Collect" to take your winnings and return to the game. The Double Up feature is designed in a way that gives you the power to protect your winnings depending on what you want to gamble. So, take that huge chance. Go big or go home!
Is Stampede Online Slot Game Worth Your Time?
Everything about the Stampede slot screams safari freedom. The scenery of African sunset, powered by the amazing cinematic technology of Betsoft, offers you a rather soothing gaming experience. The best part is that the potential winnings are just too good to be overlooked. If you love adventure and want to be in the wild, surrounded by the beauty of nature, you should play the Stampede slot.
New FanDuel Casino customers get to play your first day risk-free up to $200 when you sign up today!