Phillies Ace Finishes 2022 With Mind-Blowing Stat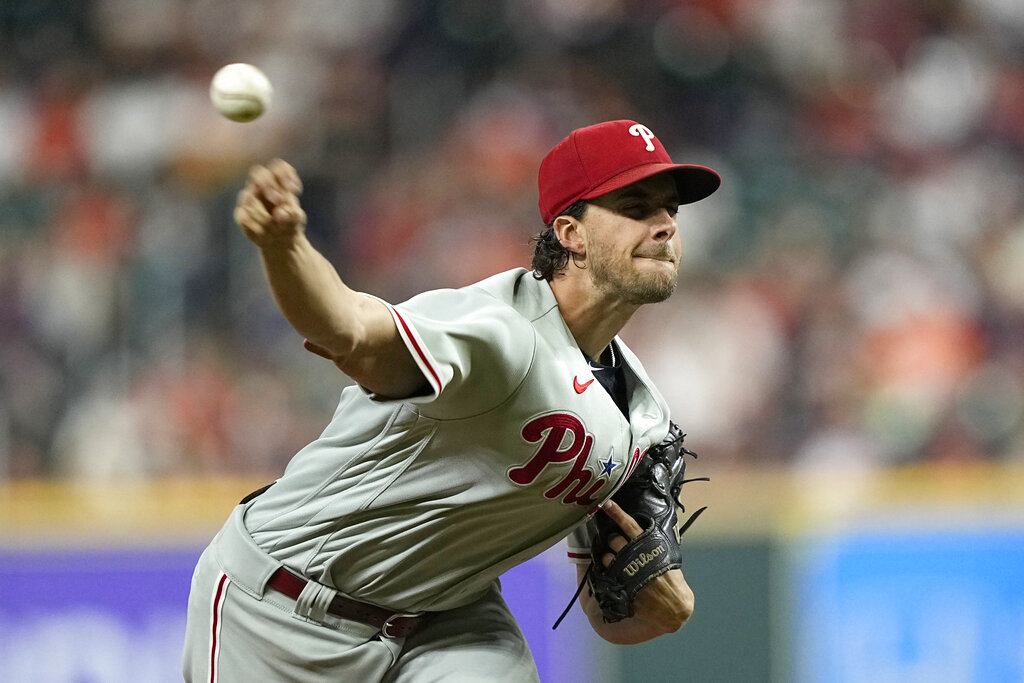 Updated:
Philadelphia Phillies ace Aaron Nola has always had great control, but this year he took it to another level.
After racking up 9 strikeouts with no walks during his final start of the regular season on Tuesday, Nola secured his place in MLB history. He became the first pitcher since 1884 to finish a season with at least 220 strikeouts and fewer than 30 walks, ending up at 235 and 29, respectively.
Aaron Nola News
Nola's accomplishment was overshadowed by the Phillies clinching their first playoff berth since 2011 on the same day, but it's still a remarkable accomplishment. No pitcher in modern baseball has ever done what Nola just did, and there have been a lot of great hurlers in the last 138 years.
To put Nola's achievement in perspective, just think about all legendary pitchers who never had a season like the one Nola just had. Walter Johnson never did it. Sandy Koufax never did it. Pedro Martinez never did it. Name literally any pitcher since the 19th Century besides Nola -- none of them have done it.
Nola's historic feat is a testament to his elite skill set. For starters, he hardly walks anyone. He had fewer free passes (29) than starts (32) and posted the lowest walk rate (1.3 BB/9) in the National League. Nola faced a lot of batters this year (807) and only gave up first base to 3.6% of them -- well below the MLB average walk rate of 8.2%. That's not easy to do when hitters are taught to work the count and understand that a walk is often just as good as a hit.
The former All-Star is also an outstanding strikeout pitcher. While his 10.3 K/9 was actually his worst since 2019, he still averaged more than a punchout per inning and was comfortably above the MLB average of 8.5 K/9. His 235 whiffs rank fourth overall.
You also have to be durable to tally such a high number of strikeouts, and Nola is one of the most dependable starters in the game. He leads MLB with 32 starts and is one of just four pitchers to exceed 200 innings so far this year, ranking second behind NL Cy Young favorite Sandy Alcantara.
Nola often doesn't get the recognition he deserves for being one of the sport's premier pitchers. He's only made one All-Star team in his eight-year career and has never won a Cy Young award. The 29-year-old right-hander remains criminally underrated, but perhaps this stat will help fans finally realize just how special he truly is.