Padres Injury Report: Manny Machado Ankle Injury Is Altering His Swing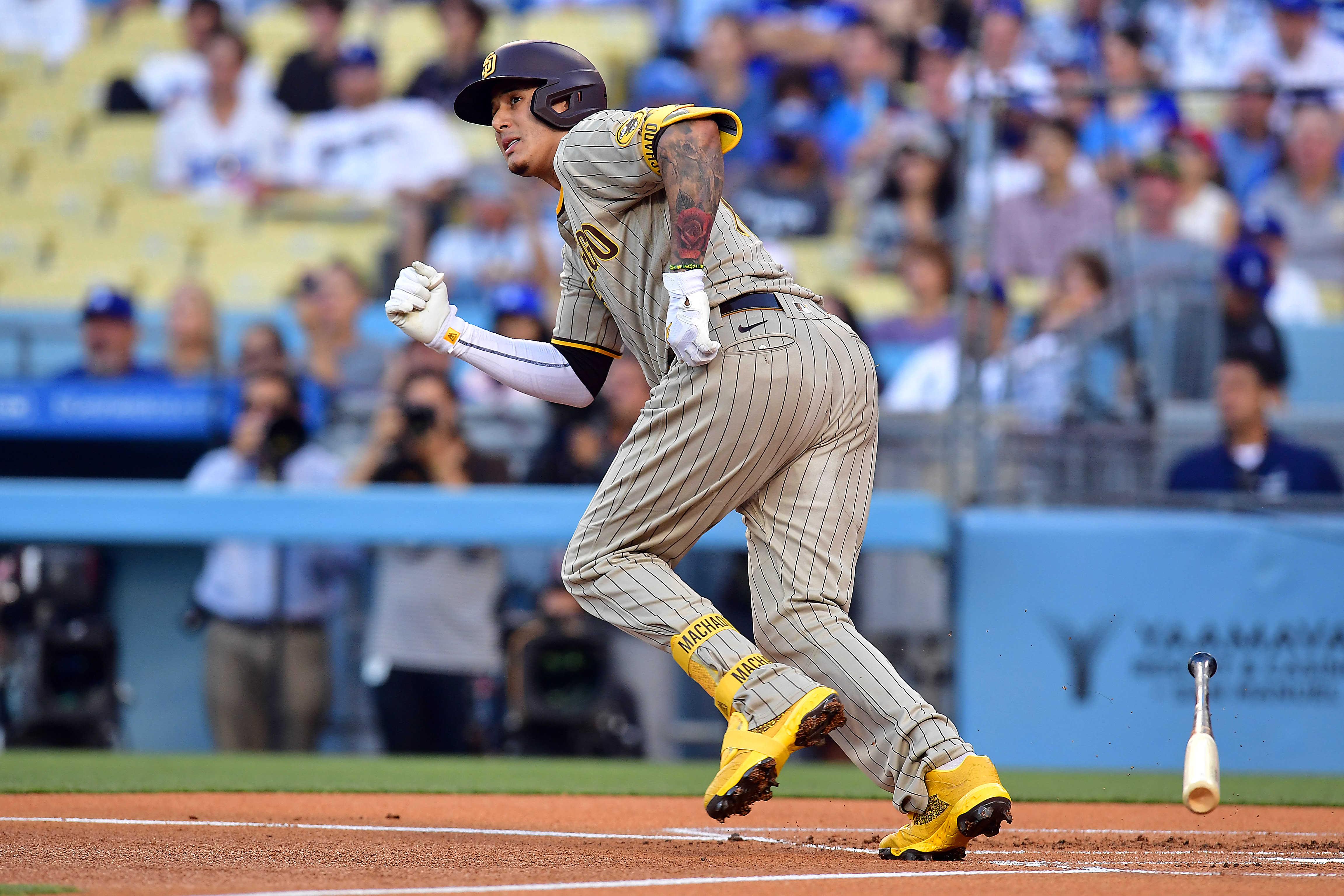 Updated:
In his first game since suffering a Grade 3 left ankle sprain on Father's Day, Padres star third baseman Manny Machado struck out three times in four plate appearances on Thursday night.
The last time the 29-year-old struck out at least three times was on Aug. 5 in a 10-inning game against the Athletics, over 115 games ago.
Yes, he hit a double in his first at-bat against the Dodgers Thursday night, but his altered swing revealed to our team of Pro Baseball Docs just how much the ankle injury is still affecting him.
Machado's Swings Post-Injury
Here are a few clips from Thursday's game, including the 1st inning double.
Machado does two things during these swings to compensate for the still ailing ankle ligaments.
During the first swing, he avoided turning his left foot at all and was "all hands" with his swing. He still made solid contact and drove the ball, but not with the same power he had pre-injury.
Machado also slid into second even though he was well ahead of the throw. That's likely because it's still difficult for him to slow down on the injured ankle.
In the swings after his first at-bat, he spins on his heel while swinging rather than keeping his foot planted and attempting to hit the ball the other way.
There's no doubt having Machado back in the lineup is a boost for the Padres, who averaged a surprising 5.56 runs per game with the All-Star third baseman out of the lineup.
Machado beat the initial projections from our Pro Baseball Docs and was able to avoid an IL stint.
However, it will be a bit before he's able to swing, run the bases and play third base at his pre-injury level.
Machado's Pre-Injury Swings
Here are two Machado hits from the two games before he was injured.
In these swings Machado shows his typical balanced swing and puts stress on the outside of his ankle when completing the swing.
That allowed him to stay through the ball when driving the double to right field and provided the power on his two-run homer against German Marquez.
Having Machado serve as designated hitter makes sense for the Padres. However, based on the analysis from our Pro Baseball Docs, it may be too soon to play him in your DFS lineups.
He's currently the highest priced third baseman on FanDuel, at $4,200. That may be a little steep for a hitter still affected by an ankle injury that requires daily maintenance to keep the swelling down.
When Will Machado Return to Play Third Base?
Padres Manager Bob Melvin told reporters before Thursday's game, "There was a debate whether or not to play (Machado) at third today. But I think first day in probably prudent thing to do is let him DH and go from there. How many games he plays in the series, I'm not sure yet."
At this point, it would be a big surprise to see him return at third base before the All-Star break, as our Pro Baseball Docs have detailed previously.
Standing for nine innings at third base is a much bigger ask than serving as designated hitter.
With swelling still an every day concern for Machado and the Padres medical staff, the Pro Baseball Docs don't see how that changes in the short term.
If the star third baseman can't DH four days in a row, why risk reinjury by having him play the field?
Padres World Series Odds
At 46-33, the Padres trail the Dodgers by 3.5 games as of Saturday afternoon. San Diego is at +270 to win the division and +1300 to win the World Series, according to FanDuel Sportsbook.

National League MVP Odds
Machado is at +550 to win NL MVP, behind Paul Goldschmidt at +115 and Pete Alonso at +500 at FanDuel Sportsbook.