Oaklawn Park 2022-23 Racing Schedule and Biggest Graded Stakes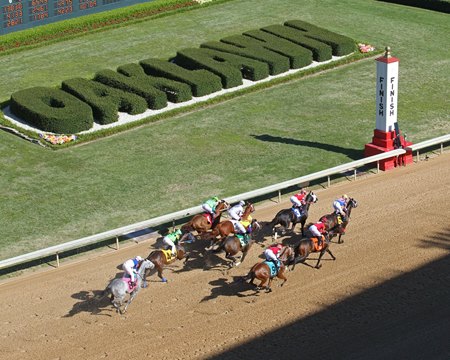 Updated:
Oaklawn Park racing started earlier again this year, and the 68-day racing schedule runs from Dec. 9 through Kentucky Derby day May 6, 2023. The Hotsprings, AR track hosts 45 stakes races offering purses of $13.75 million - the greatest number of stakes races and the highest stakes purses in its history. The total purse distribution for the five-month meet is projected to top $50 million.
FanDuel Racing has you covered for the biggest races, including the $1.25 million Arkansas Derby on April 1 held during the Racing Festival of the South. Three other graded stakes races have purses of at least $1 million.
Horse racing at Oaklawn is mostly three days a week Friday through Sunday, plus holidays. The track adds Thursday racing in March during the heart of the meet. The Oaklawn dirt track is a one-mile oval with two different finish lines, and there is no turf course.
Check out the horse betting options at FanDuel Sportsbook and the best promotions when wagering to win.
Oaklawn Park Graded Stakes Races 2023
1.

$750,000 Southwest Stakes (Jan. 28)

Grade 3 for 3-year-olds - 1 1/16 miles
2.

$250,000 Bayakoa Stakes (Feb. 4)

Grade 3 for older Fillies & Mares - 1 1/16 miles
3.

$600,000 Razorback Handicap (Feb. 18)

Grade 3 for older horses 4 & up - 1 1/16 miles
4.

$1 million Rebel Stakes (Feb. 25)

Grade 2 for 3-year-olds - 1 1/16 miles
5.

$300,000 Honeybee Stakes (Feb. 25)

Grade 3 for 3-year-old Fillies - 1 1/16 miles
6.

$350,000 Azeri Stakes (March 11)

Grade 2 for older Fillies & Mares - 1 1/16 miles
7.

$500,000 Essex Handicap (March 18)

Grade 3 for older horses 4 & up - 1 1/16 miles
8.

$200,000 Whitmore Stakes (March 18)

Grade 3 for older horses 4 & up - 6 furlongs
9.

$1.25 million Arkansas Derby (April 1)

Grade 1 for 3-year-olds - 1 1/8 miles
10.

$600,000 Fantasy Stakes (April 1)

Grade 3 for 3-year-old Fillies - 1 1/16 miles
11.

$400,000 Oaklawn Mile (April 1)

Grade 3 for older horses 4 & up - 1 mile
12.

$1 million Apple Blossom Handicap (April 15)

Grade 1 for older Fillies & Mares - 1 1/16 miles
13.

$500,000 Count Fleet Sprint Handicap (April 15)

Grade 3 for older horses 4 & up - 6 furlongs
14.

$1 million Oaklawn Handicap (April 22)

Grade 2 for older horses 4 & up - 1 1/8 miles