New Casino Games Spotlight: Zodiac Infinity Reels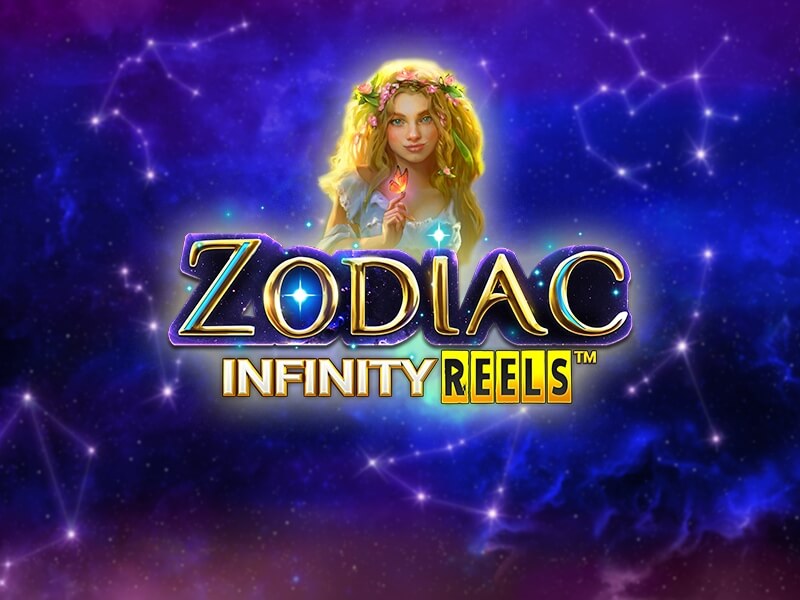 Updated:
Zodiac Infinity Reels is a real money slot with a unique reel layout with its infinity mechanism. The zodiac signs inspire this game from Reel Play. You'll see a lot of astrological signs and even the one that matches your birth month.
In this game, you can match many of these zodiac symbols to get winning combos. This medium-to-high volatile slot machine comes with several exciting features that we will look at in detail. If you haven't played this casino game, we suggest you head to FanDuel Casino.
How to Play Zodiac Infinity Reels
This three-reel slot machine has a 95.57% RTP. Zodiac Infinity Reels begin with two rows, but as the game continues, more rows are added. This will give you more opportunities to match winning symbols. To win this game, you need to pair three or more zodiac symbols on the adjacent reels.
You can set your bet limit between 25¢ to $60 per wager. If you don't want to play manually, there is an autoplay option that makes the game spin between 10 and 100 times. If you're pressed for time, Zodiac Infinity Reels also has a quick play mode. With every spin you make, you stand a chance to win up to 3,956x your stake.
Zodiac Infinity Reels Slot Visuals and Sounds
As one would expect from an astrology-themed game, you'll see many constellation images. The backdrop is filled with beautiful constellations in the sky. There are a few visual effects and animations in the game. Zodiac Infinity Reels is a simple yet very intriguing slot machine. The game is filled with all the zodiac sign symbols and elements. The background music playing complements the game's theme. It's soft but also very rhythmic to give that immersive experience.
Jackpots on Zodiac Infinity Reels
This Reel Play slot has five wheels in total in its Wheel bonus feature. If you're lucky to get the fifth wheel, you'll trigger any of the jackpots. Zodiac Infinity Reels has four progressive jackpots:
Mini Jackpot = 10x
Minor Jackpot = 25x
Major Jackpot = 100x
Grand Jackpot = 1,000x
Special Features of Zodiac Infinity Reels
Zodiac Infinity Reels real money slot has four bonus features. The most important feature in this game is its Infinity Reels which can include up to 12 extra rows. We'll look at these features in detail below:
Multiplier Feature
For this feature, when you make a spin for your first win, you get a 1x multiplier. An additional row will be added to the reels, and your multiplier will also increase by 1. It will also increase during the free spins round. When the reels go back to their original size, your multiplier will be reset to 1x.
Infinity Bonus
If you can win matches up to the point where the reels stretch to 13 rows, you get the Infinity Bonus. This feature allows you to claim up to 888x your stake.
Wheel Bonus
When you match the scatters on the reels and you trigger the wheel feature, it will automatically give you eight free spins. For this feature, if the pointer stops on a cash prize, you can claim it and then proceed to use your free spins. Also, it can either land on a free spin or a multiplier.
Free Spins
When you have used the Wheel feature and claimed your bonus prize, you still have eight free spins to use. You can use your free spins and multiplier bonus from the wheel feature to boost your winnings.
It depends on what symbols you collect on the wheel, and your multipliers will also increase. It can even be as high as 7x your stake. The good part is that the reels don't reset during the free spins mode, but will keep increasing. In fact, there's no limit to how high the multipliers can reach for free spins.
Is Zodiac Infinity Reels a good slot game?
If you're a fan of astrology, you'll appreciate the work put into this game's design. It's a visually appealing game with a very immersive feel. Even though Zodiac Infinity Reels has a 95.57% RTP, you'll still be lucky to make winning matches.
The expanding reel's mechanism makes it even better to match more symbols. Besides that, you also get free spins and multipliers in the game. While you're having a swell time in this slot, we hope you also get some decent winnings along the way. You can play this real money slot machine at FanDuel Casino.
Please note: Some FanDuel casino games may not yet be available in your state or on your preferred app. Please check your iOS/Android app and visit casino.fanduel.com or fanduel.com/casino for announcements about the latest casino games available.