New Casino Games Spotlight: Slingo Carnival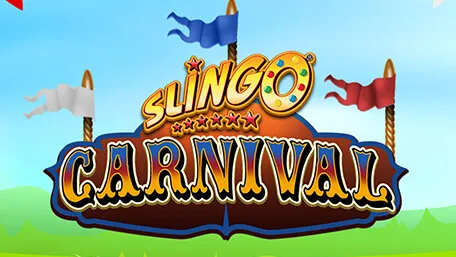 Updated:
Playing Slingo Carnival brings back fun childhood memories like big tops, candy floss, and even the scary waltzer's ride. This online casino slot is fun, fascinating, and follows the common Slingo format. The aim of playing the game is to match the numbers on the reel with those in the grid to complete Slingos and take home some juicy cash prizes!
Players can play Slingo Carnival for real money at FanDuel Casino. The online casino slot is available both on mobile and desktop because it's fully optimized on both platforms.
We will now be looking at the various cool features of this new online casino slot in our review..
How to Play Slingo Carnival Slot
It's easy to play the Slingo Carnival online slot. First, you need to think about the amount you want to stake. When you have one in mind, use the + and - symbols at the bottom left corner of the screen to input the amount you want to stake.
Next, push the red and yellow "start game" button to start playing. Remember that the game aims to match the button on the reels at the bottom of the screen to those on the grid, and each game you play lasts for 10 spins. To see the number of game spins you have left, check the blue circle found just above the "spin" button.
If you mark off five numbers on one of the 12 win lines, you win a Slingo! and as you continue winning Slingos, you'll level up on the progress ladder shown on the left side of the screen.
You can use the Joker to mark off any number in the column above to complete Slingos. And if you want to mark off any number of the entire grid you can use the super joker.
So, whenever you have the chance to mark off a number by yourself (which can be by either landing a Joker or a super Joker), your options will be shown in green and you'll have to click on any square you choose.
You can buy more spins after every game, but the price of these extra spins depends on potential prizes and the game position. So, the next spin's price will be shown on the red "spin" button. You can as well press "collect" to play the current bonus game and boost your total win with some high-paying multipliers!
Slingo Carnival Visuals and Sounds
Slingo Carnival is set on a bright and colourful carnival background with 5 reels. It has a very clear and easy to use layout which is great for both novice players and expert players alike.
In addition, Slingo Carnival's theme is a carousel tune and it drifts all through the time you're spinning those reels. This is all you can expect from the game in terms of theme because a common problem that's particular to Slingo slot games is that they cannot theme their symbols.
Special Features of Slingo Carnival
Slingo Carnival has cool and lucrative bonus features, including the usual Slingo tropes like the free spin symbol and the blockers that halt the completion of pay lines.
Therefore, If players manage to win 5 Slingo lines, they have the opportunity to partake in one of Slingo Carnival's bonus rounds. These bonus rounds include:
Roller Coaster
Here, you spin the wheel to see how far you can go up the roller coaster. If you're able to reach the top, you'll win a 1000x multiplier!
Balloon Popping
Players can only throw darts at balloons four times, and these balloons give a multiplier of 1 to 5.
Toy Bonus
In this bonus, you choose from a variety of toys, and each toy hides an instant prize.
Log Flume Ride
This bonus is the same as the roller coaster, but the difference is that it's on a log flume setting.
Bottle toss
In this bonus, a player has only 3 throws at tossing a ring surrounding a bottle. And each bottle conceals a multiplier between 1 and 5. So, any bottle the player hooks represents the multiplier they will win.
Whirl winning bonus
This winning bonus is very lucrative and it allows you to win a multiplier of up to 1,000 times your original stake. So, to unlock this whirl winnings bonus, you need to land a full house. And landing a full house means you must have won 11 Slingos!
Is Slingo Carnival a Good Online Casino Slot Game?
If you're looking for a wild and adventurous gaming experience, then Slingo Carnival is best for you. However, it is different from regular slot games and loved by experienced players, especially because of its attractive bonus features.
You can hop on to FanDuel Casino to try the game out, and there's good news: The game is playable on mobile devices!
Please note: Some FanDuel casino games may not yet be available in your state or on your preferred app. Please check your iOS/Android app and visit casino.fanduel.com or fanduel.com/casino for announcements about the latest casino games available.